Tuesday, April 26th, 2011
Attorney general: lab work too slow
By William Kincaid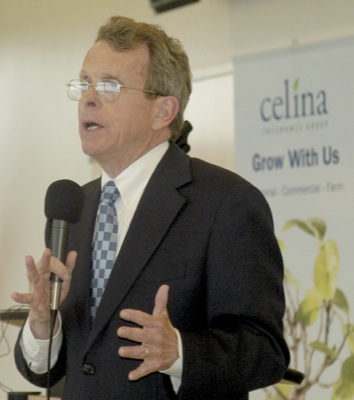 CELINA - The Ohio Bureau of Criminal Identification and Investigation (BCI&I) is on average 125 days behind on processing DNA evidence, according to Ohio Attorney General Mike DeWine.
"Now that is simply not acceptable," DeWine told local law enforcement officers Monday afternoon at a Northwest Regional Law Enforcement seminar at Wright State University-Lake Campus.
The lengthy process delays the prosecution of suspects and in a rape case could mean the suspect remains unidentified and on the streets, DeWine said.
"It is a matter of life and death," he said.
DeWine vowed to improve efficiency by improving technology, including the use of robots, allocating more money, resources and people to the crime lab and streamlining the DNA process.
He said he would like to reduce the steps used while maintaining quality results.
"We're going to dramatically change it (efficiency)," he said, adding that the demand for DNA continues to grow. "Juries want DNA."
DeWine - who told law enforcement officers his department is here to assist them - also addressed identity theft, the main topic of the seminar.
Bad guys are using better and newer technology and must be combated as there are all kinds of scams out there, DeWine said.
He had no specific numbers related to identity theft but said the state receives 35,000 calls every year about consumer fraud. Of those calls, only two last year resulted in criminally prosecuted cases, he said.
He said a prosecutor is now embedded in his office to assist with consumer fraud cases and intends to help local agencies develop winnable cases.
If people receive calls that sound too good to be true, they are, he said, adding that people should be concerned about requests for money transfers through services such as Western Union.
DeWine pointed out one case where a scam artist used the name of a victim's grandchild to swindle them out of money.
Mercer County Sheriff Jeff Grey said his department sees between 15 to 25 cases each year involving identity theft. The big thing for his department is learning how to investigate these kinds of cases and help restore the victims, he said.
DeWine also talked about cracking down on doctors contributing to the prescription drug abuse problem in Ohio, one that has been covered by the media extensively in southern Ohio but affects all counties.
DeWine said rogue doctors will have their licenses taken away and be indicted, prosecuted and put into prison.
"It's just a huge, huge problem," he said.