Friday, April 8th, 2011
Candidates spar for mayor's spot
By William Kincaid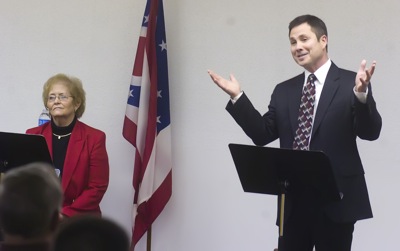 CELINA - Mayoral candidates agree that infrastructure and finances are big issues that must be confronted by the city.
Celina Mayor Sharon LaRue and fellow Republican Jeff Hazel and Democrats Jess King and Craig Klopfleisch argued why they should be mayor during a forum hosted by the Grand Lake Patriots Thursday.
All of the candidates' names will appear on the primary election ballot in May, and one Republican and one Democrat will be selected to vie against each other during the general election in November.
Candidates didn't spar Thursday night. Each responded to the following preselected questions administered by the patriots:

Why do you want to be mayor?
King said he wants to serve the people of Celina to the best of his ability and would be cautious and conservative with spending.
Klopfleisch, who playfully pointed out his last name means wielder of thunder and lightning, said being mayor is all about leadership.
"The way we shape what happens in the community," he said about what leadership means to him.
As Celina mayor from 1995 to 2000, Klopfleisch said he be oversaw the construction of a new pool, the selection of Celina as one of the best 100 small towns in the U.S, the ozone treatment process that led to better tasting and smelling water and the expansion of Crown to the old Huffy building.
LaRue wants to keep her role as leader of the city.
"I want to continue being mayor because I have an agenda," LaRue said, explaining she wants to continue improving infrastructure, including the rotten, inadequate water lines plaguing the city.
She said she wants to continue getting grants for such projects and improve the working conditions of the police, fire and city hall workers. The police department often has to conduct interviews in the public hallway due to lack of space, she said.
"And that's not good," she added.
Hazel said he obviously isn't pursing the position, which pays $15,000 annually, for money.
"It truly is my passion to serve others and make a difference," he said.
Hazel said as a former Celina safety service director he made the tough decisions, didn't show favoritism and espoused fiscal conservatism, something he would like to bring back to the city.
"My goal is to look at it from a fiscal standpoint," he said.

What are the most important issues of the city?
Hazel said the perception of public finances is important, as possible state cuts could compound current city financial issues and affect services provided to citizens.
He also said the city lacks a savings plan. Just like families set aside money for certain aspects of life, the city should create separate funds for equipment and secondary streets, he said.
Continuing his comparison, he said the city has been using a lot of credit cards. Municipal debt is not necessarily a bad thing, but its means of payment must be established, he said.
King - who gave succinct responses to most questions - said local tax issues need re-evaluated, the budget needs controlled, careless spending must stop, new businesses must be attracted and city streets need repaired.
Klopfleisch stressed the importance of paying attention to the little things, pointing out that New York City - formerly a filthy, disgusting, crime-ridden place - was revitalized not by throwing money at problems but by enforcing small things, such as littering, graffiti, cleaned subway stations and attention to dilapidated infrastructure.
"And guess what happened? Neighborhoods changed," he said
LaRue said the economy is the biggest problem, adding that cuts to state funding and other sources could result in an annual loss of $300,000 to $800,000.
"I really don't have a solution at this time," she said, pointing out that city services have already been cut.
Infrastructure, though tended to during her term, needs to be improved, she said.
"It all goes back to dollars," she said.

How would you change how finances are communicated to council members and the public?
"Yes, we got into a lot of trouble last year," LaRue said, pointing out the city projected a deficit for 2011 but ended up with a $1.2 million carryover.
Without the carryover, the city would be in much deeper trouble than it is now, she said.
LaRue admitted making a mistake by not watching the financial numbers more closely or questioning them. She took them at face value, she said.
But now she has delved deeply into the budget, she said.
"I have learned numbers I didn't even know existed," she said.
LaRue said the city now is using a new, two-sheet financial report that is understandable and readable. The city is also revamping its website, she said.
Hazel said publishing financial information on all possible mediums - including websites and Facebook - is necessary.
"These reports are public information. You can get them any time," he said.
Hazel said the city has hundreds of accounts. The key is simplifying the information in its dissemination to the public.
"This is public information. There're no secrets here," he said.
King said financial reports should be included in monthly utility bills.
"I think that would be a good economical way to get to everyone," he said.
Financial disclosure is another issue of leadership, Klopfleisch said, adding that many forecasts - best case, worst cast and most likely - are needed.
However, Klopfleisch said forecasting is difficult.
"It's tough under the best of circumstances," he said.

What changes would you like to see to present city policies?
King said he doesn't know all of the present policies and would have to evaluate them.
Klopfleisch said he would like to audit every city department and keep what's working and get rid of what's not.
LaRue believes property maintenance ordinances need beefed up and enforced.
She also said subdivision regulations are lax, specifically street regulations, and pointed out that stricter zoning is necessary too, as there are oversized buildings and attachments in town.
She added that the position of mayor should be made full time.
Hazel said property maintenance must be addressed. He also said there is a need for fiscal restraint.