Friday, May 13th, 2011
Celina suffers heartbreaking 15-inning loss
By Ryan Hines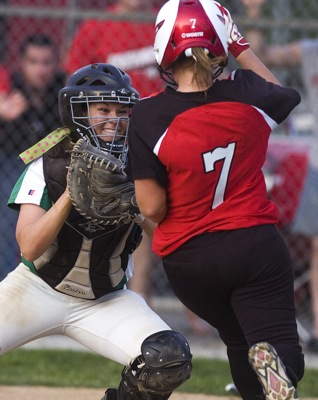 LIMA - The thrill of victory and the agony of defeat.
Both were on display Thursday evening when Celina and Lima Shawnee faced off with the probable Western Buckeye League softball championship hanging in the balance.
Shawnee is all alone on top of the WBL standings following its 3-2 victory over Celina in a marathon 15-inning affair. The Indians (18-0, 7-0 WBL) still have to beat Wapakoneta (today) and St. Marys (Wednesday) to clinch the outright league title while the Bulldogs (12-7, 6-1 WBL) still have St. Marys (tonight) and Ottawa-Glandorf (Monday) on the slate while hoping for a Shawnee loss.
Indians' head coach Lou Seddelmeyer and Bulldogs' skipper Nicole Driggs both stated that neither team should have lost the game, but it was Shawnee's Shelby Lucas driving home the winning run with two outs in the bottom of the 15th inning. Officials would have suspended the game because of darkness had Shawnee not scored the winning run in the 15th frame.
Lucas was just 1-for-6 at the plate before delivering the game-winning hit, an infield single off the glove of Celina's diving Leah Rose at third base, which plated Rebekah Rader as the game ended just after 8:30 p.m.
"We had a lot of chances, three runners thrown out at home plate and the defensive plays in the game were amazing," said Shawnee's head coach Lou Seddelmeyer. "My concern is that neither team should have lost this game. Two great teams in a great game.... I've never seen anything like it in all my years. I wish it could have ended in a tie because neither team deserved to lose it. It's terrible that somebody had to lose."
An emotionally drained Driggs agreed with Seddelmeyer's assessment.
"It was a battle, so many great plays from both teams. This is one we both wanted with both of us being undefeated in the league. It was a fight and it just fell in their favor," said Driggs. "Everybody lost their voices out here. It was a great game and I just wish we weren't on the losing side. Hats off to Shawnee and coach Lou. Neither team gave an inch."
It didn't appear as though the game was heading for extra innings through the first six frames as Shawnee's pitcher Sam Bullock quieted the Bulldogs' bats and the Indians held a 2-0 lead with Celina heading into its final at-bat. However, Celina's offense sprang to life in the seventh inning.
Amanda Hoying started Celina's seventh-inning rally by drawing a one-out walk and then Christine Thobe gave the Bulldogs runners at second and third after smashing a double to left-centerfield. Hoying scored the first run when Shawnee's catcher Brittany Lauck tried to pick off Hoying at third base after a pitch, and Lauck's throw skipped just far enough from the Indians' third baseman for Hoying to scamper home.
Abbey Zacharias then delivered a clutch RBI single to right-centerfield to allow Thobe to trot home for the game-tying run.
"I was really pleased with our girls. The clutch hitting in the seventh inning was a morale booster. That's when we really started to get excited and we felt that we could do this," said Driggs.
Shawnee's Bullock and Celina's Katie Kerr kept the opposing offenses silent for the next seven innings, but not without some drama.
Celina's defense made three outs at the plate on Shawnee's potential game-winning efforts and also retired another Indians' runner during a run-down between home and third base. Zacharias made a diving stab at a ground ball and then lobbed a perfect throw to the plate in the 11th inning for one game-saving play before Thobe gunned down a runner at the plate from leftfield in the 12th inning.
"Shawnee has some speed and we knew that they were going to be aggressive to try and score from third to home and from second to home. We had some fantastic plays on defense. The throws came in and (Hillary) Heiby made perfect tags at the plate. Christine's throw from leftfield and Abbey's lob home was another great play," said Driggs. "There are some success stories in this loss."
Shawnee's Bullock and Celina's Kerr went the distance on the mound. Bullock gave up 10 hits and walked six with 12 strikeouts while Kerr surrendered 14 hits and three walks with five strikeouts.
"The heart of both of those pitchers to pitch that kind of game for that long is just amazing," said Seddelmeyer. "They just pitched a doubleheader without a break. Both were still throwing great at the end. Incredible efforts."
Rose had the hottest bat in the game for Celina with five singles while Zacharias and Heiby each added two hits. Shelby Lucas, Lauck, Liz Aller, Morgan Truxel and Rader each had two hits apiece.