Saturday, May 14th, 2011
Bulldog boys win WBL
2011 Western Buckeye League Track Meet
By Gary R. Rasberry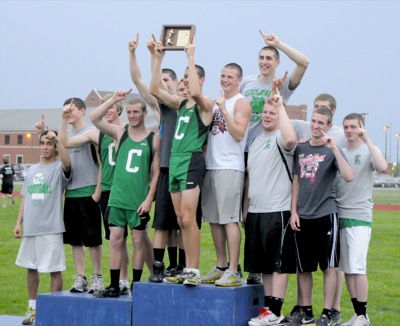 VAN WERT - The nasty weather held off at Van Wert High School on Friday and Celina's boys track team was grateful.
The Bulldogs captured their first Western Buckeye League title since 1997 after scoring 91 points, 27 more than runner-up Ottawa-Glandorf.
The hopes for a Celina sweep of the WBL team championships didn't come to fruition as the Green and White finished second behind Defiance by a score of 131-104. Celina was looking to sweep the team titles for the first time since 1995.
For Celina's boys the championship was a long time coming.
"We've been so close every year," said Celina sprinter Andy Sutter. "From my freshman year we have been so close. Now it feels great to finally (have) done it. Everybody worked hard all year long. Freshmen have been filling some spots. They did awesome. It's exciting for our boys."
Celina's coach Dan Otten, who earned WBL Boys' Coach of the Year, gave praise to longtime Bulldogs' head coach and current assistant coach Walt Shreffler, in his 40th year with the program.
"He's the architect that got us going," said Otten. "I haven't changed anything (that Shreffler did)..... His system of doing things has carried through.
"All my experience comes from him Out of my 35 years (as a coach), 32 have been with him."
One area that proved to be big for Celina was sprints, not one of the strengths of the team in recent years.
Celina scored 27 points in sprint events - 100, 200 and 400 meters and the 400 and 800 relays.
The 800 relay (Braelen Bader, Sutter, Brad Buxton and Steffan Miller) broke the school record with a winning time of 1:33.05.
"We got our freshman (Bader) leading and he did a good job for us this year," said Miller, who added a second-place showing in the 110 hurdles. "We got the school record and finished up strong. It really helped. It boosted our confidence."
Sutter took second in the 100 meters while Buxton finished fifth in the 200 meters and sixth in the 100 meters. Logan Laux replaced Buxton in the 400 relay that finished third and also added a third-place finish in the 300 hurdles.
Celina's distance group added points as Derek Pease and Cole Mertz placed fourth and fifth in the 1,600 meters. Mertz and Chris Nusbaum were also strong in the 3,200 meters with finishes of third and fifth.
The field events were also strong for Celina over the two-day meet. Janson Finkbeiner, who won the pole vault on Wednesday, added a fifth-place finish in the high jump on Friday. Derek Jones added a runner-up finish in the discus to go along with his second-place effort in the shot put on Wednesday. Avery Moeller was third in the discus.
In the girls' meet, Celina's Hannah Fleck passed Defiance's Kristen Fett in the last 200 meters to win the 1,600 meters. In the 800 meters Fleck and Ashley Coon added 16 points to the Lady Bulldogs' cause as Fleck was the winner with Coon in third. Despite a short rest Fleck then ran the 3,200 meters and finished in third place, just behind teammate Andrea Bell in second.
"It feels great, I had some really great competition push me," said Fleck. "My best performances of the season so far. Couldn't have asked for a better day. Fett runs a great race. I had to stick with her because if I would have sped up, so would she. I though she should set the pace (in the 1,600 meters). I'm so proud of Ash, she did a great job."
Celina sophomore Katie Sutter came up big with several strong finishes. Sutter topped out at a personal best of 16-9 to finish third in the long jump and then grabbed fourth in the shot put with teammate Kayla Fortkamp finishing in fifth.
Lexi Mills and Lizz Carr scored for Celina in the hurdle events. Mills was second in the 100 hurdles and third in the 300 hurdles while Carr was fifth in the 300 hurdles. Michaela Wenning took fifth in the 400 meters.
St. Marys' girls finished fifth while the Roughriders' boys, who led after the first day of competition, finished in seventh.
Roughriders' star Mekayla Breland completed a sweep in the throwing events. Breland won the shot put title for the third straight year and broke her own WBL record with a toss of 43-5 1/2.
"I feel that I have to compete against myself and make sure I get my goals completed," said Breland, who beat the nearest competitor by nearly nine feet. "It's a great feeling. In discus (which she won on Wednesday), I wish I could have beat the record, but like I said, you can't get everything you set out to get. In shot, I'm glad I got (the record)."
Devon Fitzgerald earned the Roughriders' boys a sweep int he two hurdle races. Fitzgerald edged Celina's Miller in the 110 hurdles before also winning the 300 hurdles.
"It was amazing," said Fitzgerald. "I started out in the high jump pretty bad (didn't make the finals). I had my focus on winning both hurdles races. Fun races!"