Monday, May 2nd, 2011
Homan is drafted in the sixth round by Minnesota
By Gary R. Rasberry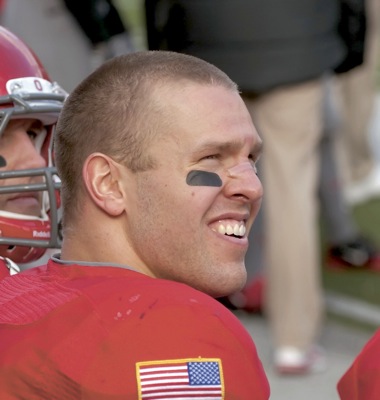 Coldwater High School star and Ohio State football standout Ross Homan was drafted in the sixth round of the 2011 National Football League Draft on Saturday afternoon by the Minnesota Vikings with the 200th overall pick.
Homan joins Jim Otis (ninth round pick of New Orleans in 1970), Jim Lachey (first round, San Diego, 1985), Jeff Hartings (first round, Detroit, 1996) and Bob Hoying (third round, Philadelphia, 1996) as the only Mercer Countians to be drafted in the NFL.
"It's great, being from a small community," said Homan in a telephone interview after the excitement subsided. "Very few people go to the NFL. It's an honor to be a part of that group."
The day was a bit of a long one for Homan, who was back home in Coldwater with his family watching things unfold through the final four rounds. While watching, Homan saw his Buckeyes' teammates Chimdi Chekwa (fourth round to Raiders), Jermale Hines (fifth round to Rams), fellow linebacker Brian Rolle (sixth round to Eagles) get their names called in the draft.
"It was a stressful time, just watching and hoping your name is picked," said Homan. "It's something I definitely wouldn't want to go through twice."
Finally, shortly after 5 p.m., the call came for Homan from the Vikings, a team that ranked eighth in the NFL last year in total defense.
"The call came 2-3 picks beforehand," said Homan. "The GM (vice president of player personnel Rick Spielman) said 'How would you feel to be part of the Minnesota Vikings?' I said I'd be honored. I talked to the linebackers' coach (Hall of Fame linebacker Mike Singletary), the head coach (Leslie Frazier) and defensive coordinator (former Ohio State player and coach Fred Pagac). That's about it."
The current linebacking corps for the Vikings is led by Pro Bowl selection E.J. Henderson at middle linebacker and Chad Greenway, who was fourth in the NFL last year with 144 tackles.
Rather than heading up to the Twin Cities to meet with the team and get acclimated with his new team, Homan is stuck in a holding pattern. With the lockout initiated by the NFL owners put back in place on Friday, Homan's only contact with the team was the draft day phone call.
"With the lockout, you can't talk with the team," said Homan. "I'm back here in Columbus, training (at the Woody Hayes Athletic Center on campus) and staying in shape."