Saturday, May 28th, 2011
Wildcats' offense rocks National Trail
Division IV Regional Baseball at Springfield
By Gary R. Rasberry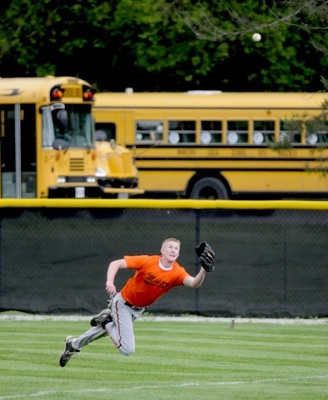 SPRINGFIELD - The offense came early and often for the Minster Wildcats, as a 19-hit attack added up to a 12-5 win over National Trail in the Division IV regional semifinals at Carleton Davidson Stadium in Springfield on Friday afternoon.
The Wildcats (20-8) will play for their first berth in the state final four since 2003 this morning at 10 a.m. against nearby-rival Lehman. The Cavaliers (19-6) knocked off Shelby County rival Russia 3-1 in game two of Friday's semifinals.
Minster was primed for what was expected to be a heaping helping of left-handed pitching by the Blazers (18-7). Trail went with Cross County Conference Player of the Year Taylor Neal at the start of the game, and after three innings of allowing just one run - a Chase Paxson RBI single scoring Ryan Hoying - the Wildcats finally began to tee off on Neal. The Wildcats sent 10 men to the plate in the fourth inning and scored three of their four runs in the frame after two outs.
Brett Meiring doubled and Hoying singled. Later with the bases loaded and Neal chased from the mound, National Trail's lefty reliever Adam Ballinger hit Adam Niemeyer to drive in another run.
"We probably had two or three two-out hits that scored runs," said Wiss. "Some of those were on the first pitch after the change of pitchers. That became important to us."
When asked if he expected to see any right-handed pitching from National Trail, Wiss had to laugh.
"We didn't see anything but left-handed pitchers in practice," said Wiss, whose team faced two lefties before righty Tanner Rhodus came in to finish up. "The community volunteers were out in force with lefties. Jimmy Stechschulte, an ex-player, and Bob Poeppelman (father to Devon and Mitchel Poeppelman) came out and gave us everything they had from the left side."
Meanwhile, Minster's starting pitcher Doug Huber was working hard to keep the Blazers - especially Neal, who had seven home runs and 41 RBI coming into the game - from doing damage. Through four innings, Huber scattered two hits and three walks. In the fifth, National Trail got two on with one out and Neal coming to the plate. Neal lined one off the pitching arm of Huber for an infield single to load the bases. Huber tried to stay in the game but Wiss chose to call on Austin Knapke in relief as a precaution. Knapke allowed a walk to score Josh Lee, but then got a strikeout and flyout to get out of the bases-loaded jam with Minster up 5-1.
"I don't know if Doug threw as well as he typically does, especially after (Neal) put one off his shoulder. That was a shot. Neal can hit," said Wiss. "But I thought we ran the bases well. We made all the plays we needed to. There were more flyball outs than there were groundball outs today. Austin Knapke came in and kept them off-balanced with the curveball."
Minster quickly padded its lead in the top of the sixth. Craig Purpus and Knapke had two-run singles in the inning to make it an eight-run lead for the Wildcats.
The only bad pitch for Knapke came in the bottom of the sixth as the bases were loaded again with Neal stepping in. This time, Knapke delivered one in Neal's wheelhouse as he launched it over the 375-foot sign in right-centerfield for a grand slam, making it 9-5.
But that would be all the Blazers would get on offense and Minster scored three more in the top of the seventh for insurance runs.
All nine spots in Minster's batting order got at least one hit with six batters having multi-hit days. Hoying went 3-for-3 with three runs scored. Purpus also scored three runs in going 2-for-4 with two RBI while Paxson went 3-for-4.
Neal paced the Blazers with a 3-for-4 game and four RBI.