Friday, June 3rd, 2011
At last
After wet, cool spring, farmers begin planting
By William Kincaid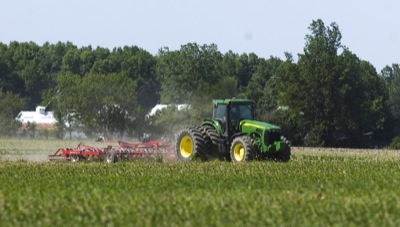 Farmers scurried to their fields this week as unseasonably warm temperatures provided respite from prolonged rains that delayed planting.
"It's certainly a welcome change from what we've experienced over the last six weeks," Chris Gibbs, executive director of the Mercer County Farm Service Agency, said.
Ninety-five percent of the corn intended to be planted this year in Mercer County likely will be in the ground by the end of next week, as well as a majority of soybeans, Gibbs predicted. A few low-lying areas near creeks or places prone to flooding may not get planted, he said.
As of May 29, only 19 percent of corn had been planted in Ohio as opposed to the five-year average of 93 percent by that date, according to a press release from the Ohio Department of Agriculture (ODA).
Ohio farmers had only 9.6 days suitable for field work compared to the average of 30 days. This has been Ohio's worst wet spring conditions in more than 100 years, the ODA press release says.
"Our farmers are making the most of it," Gibbs said Thursday. "Forecast through the weekend looks favorable with just a chance of showers on Saturday. After that, it looks clear again."
With a little luck, farmers could make out this year.
As long as there are no insect or weather problems and the fall is warm with no frost occurring before the third week of October, there's a chance for a decent harvest, Gibbs said
Although, pollination of a late crop happens during the hottest part of the year, which can cause problems, he said. Also, a late crop is more subject to frost in October.
Roger Bender, an associate professor and specialist at The Ohio State University Extension in Shelby County, predicted this year's crop yields at about 80 percent of a normal year.
"Again, it's a chance with good weather conditions," he said.
When seeds are planted with moisture present during warm temperatures, corn usually pops up quickly - as soon as three days, he said.
"It's just more efficient," he said, adding the seed doesn't have to waste energy to stay warm.
Bender, who spoke at the monthly Mercer County agriculture breakfast meeting on Thursday said he heard reports from some farmers who said the ground was a little heavy during planting, which caused him some concern.
Soil compaction occurs when heavy equipment is placed on ground that is too wet, potentially limiting the amount of air and water available for the seed, he said.
Crops grow much better when roots can spread unrestricted both vertically and horizontally in the soil, he said.
Bender said it's tough to fight the urge to get in the fields, pointing out research has indicated two bushels of corn per acre per day can be lost if planted past June 1.
Gibbs agreed.
"This is one of the most difficult times for our farmers getting into a big hurry when (it's) already late," he said.
After June 1, Bender suggested decreasing the seeding rate of corn by 10 percent to reduce seed competition for water and nutrients and increasing the seeding rate of soybeans by 10 to 15 percent to boot crop canopy.
"It's all about sunlight interception," he said.
Bender said he's not predicting a drought this year, but there's a chance the area may have received all of its rain allotment already and is setting itself up that way.
However, Mercer County crops may fare better in drought conditions because the soil nutrient levels are high, he said.
Gibbs said farmers have until Sunday to have their crop planted to be eligible for full insurance coverage. Coverage reduces 1 percent each day afterward.
He said it looks like the majority of Mercer County corn is going to make the deadline.
Ohio Agriculture Director Jim Zehringer of Fort Recovery warned motorists and farmers to use caution during this week's hectic planting.
"This week's dry weather will mean the busiest farm activity we've seen all year," Zehringer said in a press release. "As producers seize this opportunity, I encourage them to use safety precautions along roadways and to make sure their tractors are both highly visible and well lighted."