Friday, June 10th, 2011
Anxiety eases as crops planted
By William Kincaid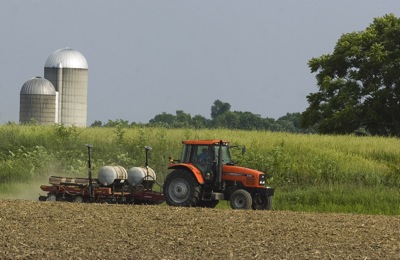 Dennis Howick is feeling a little bit better than he was in the middle of May when his seeds were sitting in his barn as rain battered the area.
Sunny, dry weather in the last two weeks changed the circumstance.
"It's looking pretty decent," said the Celina area farmer about his corn crop.
Howick, who farms 600 acres of land, planted all of his corn by Monday. He was still planting soybeans as of Thursday.
Howick predicted a "half-decent" crop this year if there are timely rains and necessary heat.
"We're eternal optimists," he said of farmers. "But Mother Nature can still throw a whammy at you."
Chris Gibbs, executive director of the Mercer County Farm Service Agency, said 95 percent of corn intended to be planted in Mercer County this year is in the ground.
Most farmers are relieved they were finally able to get to work last week and get most of the crop into the ground, he said.
Farmers hauled manure and planted soybeans and corn in a 10-day span when they normally have 45 days, he said.
"Mother Nature played a dangerous game of chicken with us, and it took some real experience from our farmers to not flinch and keep their wits about them down to the last moment," Gibbs said.
However, Gibbs said farmers in some scattered places likely will file prevented planting claims with their insurance companies and not plant anything.
When it comes down to choosing between planting or leaving the ground bare, farmers will do everything in their power to get seeds in the ground - it's just the way they're wired, Gibbs said.
Gibbs said corn that was planted with moisture and heat present is looking good and growing rapidly.
"Oddly enough, there are a number of areas that could use some rain - believe it or not - particularly where farmers had used conventional tillage," Gibbs said prior to this morning's storms.
Gibbs, who farms 440 acres in Shelby and Logan counties, said he finished planting his corn last weekend.
"The corn looks good - it's growing up," he said, adding that the heat really helped the crop come out in the last five days.
Some of his soybeans need rain.
"But all-in-all, I'm happy," he said. "I certainly was feeling pretty anxious at the end of May."
Farmers have until June 20 to plant soybeans to be eligible for full insurance coverage. Cover reduces 1 percent each day afterward. The corn deadline was June 5.
Gibbs estimated 65 percent of the expected soybean crop is in the ground.
However, the first cut of alfalfa is going to be relatively poor this year, he said.
Reports earlier this week showed Ohio farmers have completed about 80 percent of the expected corn acreage - up 19 percent from last week.
Corn prices have more than doubled and wheat prices have risen 72 percent from a year ago because of supply concerns. Corn is in short supply globally and wheat stockpiles have grown tighter after a drought damaged at least a third of Russia's crop last summer and the U.S. winter crop was affected by dry conditions.
- The Associated Press contributed to this story.