Saturday, June 11th, 2011
Idlewild: 117 years of loyalty
By Shelley Grieshop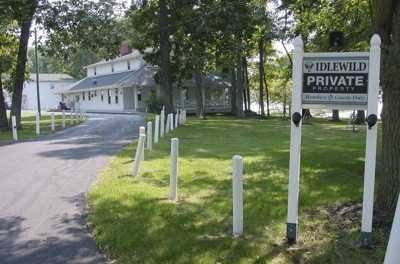 GRAND LAKE - Many area residents struggled to put food on the table when the Great Depression took hold in the late 1920s.
Vacations to far-away destinations were out of the question but some local families found a cozy spot close to home - Idlewild, a long-time private club that has graced Grand Lake's shoreline for nearly 117 years.
"During my childhood in the Depression days we spent many a summer out there," recalled Ed Noble, a retired St. Marys lawyer. "It was such a great place for many people at that time and after World War II."
The organization - officially called the St. Marys Outing Club - opened its clubhouse doors Aug. 2, 1894, along state Route 703 in Mercer County. The original building burned to the ground in the '30s but was rebuilt on the same site, according to historical records.
Black and white photographs hang from the walls of the recently renovated, two-story building. Seven upstairs bedrooms and an industrial-size kitchen on the main floor make the clubhouse a perfect getaway for family reunions, members say.
To the rear of the clubhouse is a sprawling lawn bordered by a sandy beach on the lake where Noble - the club's longest-living member - swam and cast a fishing pole as a kid.
"Those were glorious days for me. I spent most of my time in the water in a row boat or swimming," said the 93-year-old.
One day his uncle rented a motor for the boat since it was "unheard of at that time for people to own a motor boat," he said.
"We were so excited. There was four or five of us onboard. But we didn't get far from shore before the motor fell off and sunk," he said with a laugh. "That was the end of that."
In long-standing tradition, only men are eligible as Idlewild members. Meetings held on the fourth Thursday of each month are referred to as bachelor or merry men gatherings. Noble said the rule has never been an issue for wives or girlfriends "because we've just never permitted it."
For more than a century only St. Marys residents could join.
"But in the last 10 years or so we loosened up a bit," said Noble, who has been an official member since 1947.
The club still upholds a rule that allows just 63 members; a waiting list is reviewed by the club's board of trustees when openings arise, he said.
An article published in a local newspaper in 1938 described a club meeting where 11 new members were approved for membership after performing a child-like skit.
"Idlewild has now acquired new life and vitality, presaging a continuance of its time-honored customs and usages," the writer stated. "It is destined to maintain its prestige for many more years to come."
Brian Carruthers, 47, who lives near Cleveland, owns lakeside property near the clubhouse and is a proud Idlewild member. His wife grew up in the St. Marys area, and he quickly fell in love with the history surrounding the club.
"They had some legendary parties out there," he said, stopping short of detailing the not-for-print antics of past and current members.
He enjoys the stories and old photographs depicting the club's earliest dedication ceremony that included a 3-mile parade led by the St. Marys school marching band.
"Everyone was dressed to the nines in wool suits, long sleeves ... and this was in August," Carruthers said.
He explained the complex system used for decades to grant members choice "camp time" at the clubhouse from April to November each year.
Noble said his children and extended family took full advantage of their camp days and have waves of memories to cherish.
"My daughter Susan was just 6 months old when we brought her out. A nephew proposed to his wife there," he said. "The great times we all spent together at Idlewild resulted in wonderful, wonderful relationships."