Thursday, June 16th, 2011
Former Rockford resident at home on stage
By William Kincaid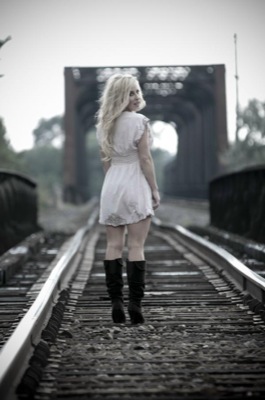 ROCKFORD - Whether singing in a coffee shop or in front of 20,000 people, Rockford native Kaela Gardner, 23, said she just loves being on stage.
"I want to sing my songs," said the 2006 Parkway High School graduate who now lives in Los Angeles, Calif.
She recently released the single "Beautiful Love," which can be previewed on her website www.kaelagardner.com and purchased at iTunes. She is the daughter of Kim and John Gardner and returned to the area for a brief visit last week.
Writing all of her own material, Gardner describes her music as a blend of twangy country and pop featuring narrative lyrics familiar in the country genre and soulful vocals that draw in listeners.
Gardner, who performed at the Viper Room in Los Angeles last month, said she has reduced her live shows from around six a month to one or two in order to focus on songwriting. She foresees a national tour with her band sometime in the fall or next year.
Gardner said she began singing when she was 2 and performed in church. She also loved English and writing her own stories.
She took off for California in May 2007 to follow her childhood dream of become a professional singer.
"We always knew Kaela would move to a large city," her mother said. "Kaela was the youngest of three girls, so it naturally made her more competitive. She was not shy and would talk to anyone she met. She was not afraid to try anything, and of course, her sisters would always talk her into doing something first - like swinging from the rope in the barn to see if it would actually hold them."
Once in California, where she lived with her aunt and uncle for six months, Gardner worked several jobs - personal trainer, waitress and cheerleader coach - to support herself while pursuing singing.
She eventually was selected to join a vocal group at Rick Warren's Saddleback Church, where she sang in front of 20,000 people, she said. She also was able to network with professionals in the music business.
Soon, Gardner found session work and sang back-up vocals on other artists' recordings. She recorded with Disney, Disney Radio and Upscale Records.
"I was basically the oos and the ahhs," she said.
She also found work singing jingles for commercials and teaching singing.
Gardner said she stood out in Los Angeles because she cared about and loved people in a selfish culture where everyone fends for themselves. People in Rockford and Mercer County - places she said she holds dear - have no idea how blessed they are to live there, she said.
Gardner pointed out several people she doesn't know in Mercer County have downloaded her single simply because she was from the area - a gesture she said has meant more to her than anything.
She said she would love to play a hometown show if given the opportunity in the future.
"We are very proud of her, not only for her accomplishments, but also just for staying true to her beliefs and sharing her gifts with others," her mother said.