Friday, June 17th, 2011
Wolters, Selhorst combine on shutout
By Gary R. Rasberry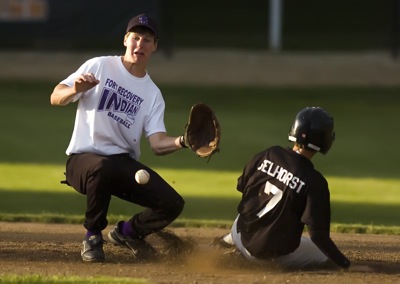 COLDWATER - Brandon Wolters pitched five strong innings and Coldwater took advantage of the walks and errors by Fort Recovery for a 7-0 win on Thursday night at Veterans Field.
The Cavaliers are now 10-2 this summer while Fort Recovery slips to 0-6.
Wolters picked up the win on the hill with five innings of two-hit pitching with three walks and eight strikeouts.
Matt Selhorst allowed one hit over the final two innings in relief to preserve the Cavaliers' shutout.
"He did a good job," said Coldwater's coach Tom Brunswick of Wolters. "He fell behind more hitters than I would like him to and he would like to, but to his credit, he came back and got a lot of them out."
The Cavaliers collected just six hits against Fort Recovery's pitchers Hayden and Shane Pottkotter, but the Indians' hurlers issued six walks and the defense committed three errors.
Coldwater got the winning run in the first when Jordan Klosterman doubled in Selhorst.
Randal Muhlenkamp drove in two more runs during the second with a single that scored Drew Otten and Mitch Schoenherr.
Single runs came in the fourth and fifth for the Cavs before scoring two more in the sixth.
"We didn't hit well tonight," said Brunswick of his offense. "When (Hayden Pottkotter) is (pitching) off-speed like that, you have to hit middle-away. We were trying to pull the ball too much. We didn't get enough good swings up there. We ran the bases well. We stole some bases (six) and put the ball in play and took advantage of some mistakes."
Fort Recovery's coach Jason Briscoe was happy with the team's effort, especially Hayden Pottkotter getting out of some jams, as Coldwater left eight runners on base in the game.
"He pitched well. He battled in situations where they had guys on base with less than two outs," said Briscoe of Pottkotter. "We did some good things on the mound, throwing strikes. Thought we made some good plays defensively (including a pop-up to catcher Gabe Riegle on a squeeze play, resulting in a double play). That's what we want to see. To see our kids out here with a good attitude, focusing on getting better every day."
Riegle had the only multi-hit game of the day for the teams, going 2-for-3.
Drew Klosterman joined cousin Jordan in collecting a double for Coldwater. Otten and Selhorst each had two steals and scored two runs.
Coldwater is back home tonight, hosting Versailles starting at approximately 7:45 p.m. after the junior ACME game at Veterans Field. Fort Recovery travels to Celina on Tuesday for a 6:30 p.m. game.