Monday, June 20th, 2011
Ellen Bryan wins title of Miss Ohio
Crown back in Mercer County
By William Kincaid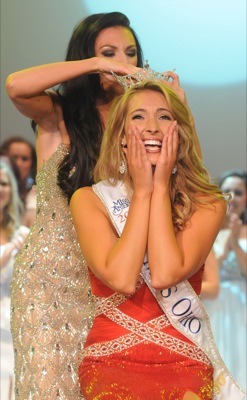 Celina native Ellen Bryan was crowned Miss Ohio 2011 on Saturday evening at the Renaissance Theatre in Mansfield.
This is the second time a Mercer County woman has won the title in the last three years, as St. Henry native Erica Gelhaus was Miss Ohio 2009.
Bryan, the 22-year-old daughter of Kent and Virginia Bryan, Celina, and a 2011 graduate of Ball State University, was welcomed home Sunday night with a special presentation at the weekly concert at Lakeshore Park.
Bryan thanked the community and her family for its strong support.
"My family has had to listen to so much pageant talk the last three years," she told the crowd.
Bryan is a vocalist espousing the platform "When Thunder Roars, Go Indoor" - a message of lightning awareness. She became a lightning awareness advocate after her sister Christina, 28, had been struck by lightning on a golf course in 2000.
"She suffered severe disabilities," Bryan told the media. "She lives at home with us, but she's in a wheelchair ... and requires complete care from my family and me. Again, when thunder roars, go indoors."
Bryan said as Miss Ohio she would like to take a bike tour around the state to visit Children's Miracle Network Hospitals and promote lightning awareness. She also said she would love to attend local events.
In addition to winning the crown, Bryan took home a $10,000 scholarship and a $500 semifinalist interview award. She also will represent Ohio at the Miss America competition in January.
"I really still can't put it into words," she said Sunday about winning the pageant. "It was just really an honor."
This was the third year she competed at the event. Bryan said she approached the pageant calmly with an attitude of doing her best and letting the judges decide.
Bryan said she honestly never considered that she might place, but once the top five contestants were announced and began ticking down, she got excited at the possibility of winning.
According to Bryan's blog, she has been awarded $25,100 in scholarship earnings from pageant competitions. She has held the titles of Miss Clayland, Miss Miami Valley and Miss Lake Festival.
Melissa Hoying, co-executive director of the Miss Lake Festival pageant, said she watched all of the Miss Ohio Competition, which began Wednesday and ended Saturday evening.
"It's so exciting to bring that crown back to this area," Hoying said.
Three other local women also competed at the state pageant: Cayla Hellwarth, 20, the daughter of Daniel and Dawn Hellwarth, Celina; Heather Waterman, 24, the daughter of Robert and Judy Waterman, Celina; and Devon Stansbury, 21, the daughter of Steve Stansbury and Marcia Ripley, Rockford.
Hellwarth, the Miss West Central Ohio title-holder, won a $250 non-semifinalist talent award scholarship, a $250 non-semifinalist classical talent award and a $500 outstanding classical performance scholarship.
Waterman, the Miss North Central Ohio title-holder, won a $500 returning contestant scholarship.
Hoying said she was proud of all four women who represented Mercer County well. She said Bryan and Gelhaus are both role models for local girls.
"It doesn't matter if you come from a small town or inner-city," Hoying said about achieving success on such a large level.
The pageant featured 26 women who competed in five areas of competition: swimsuit, talent, evening wear, an on-stage interview and a 10-minute private interview with judges.