Friday, June 24th, 2011
Coldwater teen inspires others
By Margie Wuebker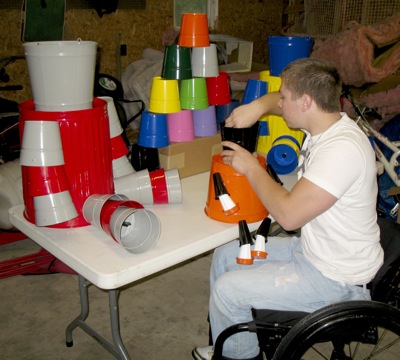 COLDWATER - Todd Reigelsperger heads toward a backyard barn anxious to prepare for the launch of his latest project - whimsical garden figures called Planter Patch Kids.
With a first year of studies completed at Wright State University-Lake Campus and preparations to join his father in operating the local Heritage Insurance Agency, the ambitious 19-year-old formed a company a month ago with friends Brent and Kurt Westerheide and Alex Gray.
Custom Cans will unveil a colorful line of "bucket people" during this weekend's Maria Stein Country Fest. Products already are on display at Ben's in Coldwater and Niekamp's Farm and Flea Market near St. Henry.
"I am not a person to sit still," he says propelling his trusty wheelchair into the barn where stacks of multi-colored buckets, spouts and gas caps await assembly into planters promoting school spirit. "This is something I can do with my friends, and the barn is a good place to hang out and run a business."
He laughs while admitting there have been some challenges like forgetting to set the brake on his wheelchair.
"I can't say this is the best ride in the world," he says. "But it gets me where I want to go."
Reigelsperger lost the use of his legs after a Dec. 28, 2009, traffic accident resulted in dissection of his spinal cord. En route to a friend's house to copy a DVD, his 1997 Lincoln Continental slid out of control on the slushy surface of Siegrist-Jutte Road. His car flipped end over end before coming to rest in a farm field.
"I knew something bad had happened because my body did not feel connected anymore," he says recalling the accident. "I could move my arms and neck but everything else felt as if it was sinking down. There was no feeling in my legs."
He was rushed by ambulance to Mercer County Community Hospital in Coldwater, taken by emergency helicopter to St. Rita's Medical Center in Lima and then transferred to The Ohio State University Medical Center in Columbus.
Reigelsperger, who family and friends describe him as a young man with an ornery streak, an amazing sense of humor and unwavering determination, beat all predictions by spending just 48 hours in intensive care following surgery to implant steel rods to realign his back and to remove bone fragments. Transfer to Dodd Hall for rehabilitation came on day nine instead of the predicted two to three weeks.
"You can always find somebody dealing with worse problems," the teen says. "I quickly realized that being paralyzed from the waist down is a whole lot better than some of the things I saw at the hospital."
Reigelsperger also talks about becoming a middle school math teacher one day. Having an opportunity to visit classrooms and tutor a student the past year only underscored that desire.
His latest business adventure developed at the suggestion of V.J. Westerheide, owner of S&K Products, who had been receiving requests for bucket people like the company mascot.
"Those guys will grow that business," Westerheide said confidently. "Todd is an inspiration to all of us ... he took a bad situation and turned it into something positive."
Reigelsperger says during his months of recovery he realized that dwelling on what was or what might be in the future only wastes time.
"I thought I would spend a lot of time thinking about my inability to walk after the accident," he says. "But there really isn't time to dwell on that because I keep rolling on to other things."