Monday, June 27th, 2011
Luebke pitches well in first start of season
From Associated Press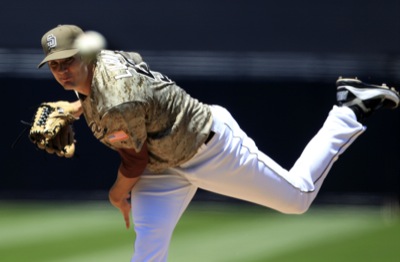 SAN DIEGO (AP) - Former Marion Local High School standout Cory Luebke, making his first start of the season for the San Diego Padres, combined with four relievers on a two-hitter in a 4-1 win over the Atlanta Braves on Sunday.
Luebke struck out six and allowed one hit and two walks in five scoreless innings. He struck out the side in the first inning on 10 pitches and retired his first seven batters before allowing a double to center by Nate McLouth.
Both starters pitched well.
Tim Hudson struck out eight in six scoreless innings while allowing six hits and three walks.
San Diego's Jason Bartlett hit a bases-loaded infield single to bring in the tying run with two outs in the eighth inning and Orlando Hudson followed with a two-run single as the Padres rallied to beat the Braves.
Both of Atlanta's hits were doubles. The Padres took two of three from the Braves and have won four of five overall.
"We're going to get on that plane and feel bad about ourselves," Braves' manager Fredi Gonzalez said. "We let this one go and we lost two out of three here in San Diego and did not get to appreciate Hudson's performance today. Outstanding, but we couldn't get the win for him."
The Padres' rally came after the Braves scored an unearned run in the top of the eighth for a 1-0 lead.
San Diego loaded the bases on a walk, an infield single, a sacrifice bunt and an intentional walk off Venters (4-1) before Will Venable popped a bunt to the pitcher for the second out. Bartlett hit a grounder that deflected off Venters' glove and rolled to shortstop for an infield single, allowing Chris Denorfia to score the tying run. Hudson singled up the middle to bring in two more runs. Chase Headley added an RBI single.
"He's human," Gonzalez said of Venters. "We've come to expect such perfection from him and it didn't happen. It's tough to get six outs with a one-run lead. They got some stuff going. They didn't hit the ball very hard. That happens sometimes when you let a team hang around."
Mike Adams (3-1) pitched the eighth for the win. Heath Bell pitched the ninth for his 20th save in 21 chances.