Monday, June 6th, 2011
Wildcats roll to first title
2011 Division IV Baseball State Champions
By Gary R. Rasberry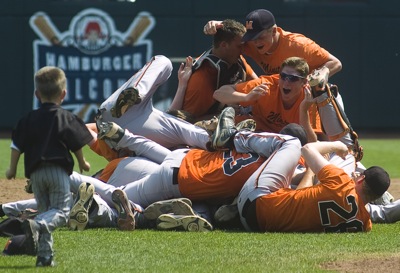 COLUMBUS - After coming back from three runs down on Thursday to beat Newark Catholic, it seemed nothing would deter Minster from getting its first state baseball championship.
Right away on Saturday, the Wildcats made sure that there would be no doubt.
Staked to a 3-0 lead before even taking the mound, Minster's pitchers Adam Niemeyer and Austin Knapke combined to fire a gem as the Wildcats defeated New Middletown Springfield 6-0 to capture the Division IV state baseball title at Huntington Park in Columbus.
Minster (23-8) becomes the first Auglaize County school to win a state title in baseball and brings home the 11th state baseball title for the Midwest Athletic Conference. The Tigers, three times a state runner-up in school history coming into the game, ends their season at 18-7.
"It's a coach's dream to be able to get here once," said Minster's head coach Mike Wiss. "When you get here once (Minster was state runners-up in 2003), it's like 'Will I ever get back?' Well, we got back. Then it's like 'How's this one going to end?' But I am going to tell you, as a coach, the wins and losses, they're wins and losses, but the ability to go down the tournament trail to watch the detail that the seniors give to covering a bunt or the scouting report. Things like that. It shows the juniors and sophomores a little bit 'See, we can do this.' ... The ability to be a teacher and a coach and watch them grow up from seventh grade all the way to be seniors and be able to influence their lives in a positive way, that's why you're here."
After starting the season 0-4 and at one point holding a 6-7 record, Minster ends the season winning 17 of its last 18.
"After halfway through the year, I thought it was out of reach," said Minster's senior second baseman Craig Purpus. "But we knew we had the talent. We just kept working at it, going to practice every day. Look where it brought us."
It didn't take long for Minster to dent the scoreboard, as Tigers' pitcher Brad Ferraro walked the first three batters he faced to load the bases. Purpus got the first RBI of the day, lofting a deep fly to rightfield to score Devon Poeppelman on a sacrifice fly. Mitch Poeppelman followed by drawing the fourth walk of the inning. Chase Paxson was tagged out at home trying to score on a wild pitch, but Ferraro walked the bases loaded again in sending Doug Huber to first, prompting Springfield's skipper Matt Weymer to call on Matt Chopp to try to get the final out of the inning. Ben Heitbrink greeted Chopp with a two-run single to center, scoring Adam Niemeyer and Mitchel Poeppelman to make it 3-0.
"They were struggling a bit, squeezing the ball," said Wiss of getting the lead. "It gave us some early opportunities."
"That's big for confidence," said Niemeyer. "I knew I could go out there and throw strikes."
That would be it for awhile as Chopp slowed down the Wildcats for 3 1/3 innings in an attempt to get his team back in the game.
"To (Springfield's) credit, they kept us at bay for awhile," said Wiss. "After the semifinal two days ago, seeing 88 miles per hour (from NC's Jimmy Lough) for five innings (and) coming into today seeing 66 mph-plus, that's a difference."
Niemeyer, however, was not keen in allowing Springfield to score. The sophomore allowed a walk in the first and a single to Jake Noble in the second. Aaron Yoder started the third with a triple, but was called out after Cody Pitzo popped out to Devon Poeppelman in short center and Yoder left the base too early, denying Springfield a chance to cut into the deficit.
Springfield made another run at cutting into Minster's lead in the bottom of the fourth as Nick Russell singled and Ferraro walked to start the inning. Knapke, who got the win in relief on Thursday headed to the bullpen to start warming up, but Niemeyer got a flyout, strikeout and forceout at second to end the threat for Springfield.
Niemeyer, who was battling through back pain throughout the game, threw two balls out of the strike zone to Yoder to start the bottom of the fifth. Wiss then called for Knapke, who got Yoder out and allowed just a walk before getting Ronnie Bovo to pop out to end the inning.
"Austin (threw) tremendous middle innings to help," said Wiss. "Adam came out and gave us everything he had. He had a sore back. The other day he threw nine pitches to close out the seventh inning (in the win over Newark Catholic), but he probably threw 50 in the bullpen in two separate instances and came in today with a sore back. He gave us everything he had."
"My side was kind of hurting. I think I pinched a nerve, pulled a muscle or something," said Niemeyer. "I was pretty sore."
Minster put the nail in Springfield's coffin in the top of the seventh against Tigers' ace Nick Russell, who beat Delphos St. John's on Thursday in the other state semifinal. Ryan Hoying turned a single into a beat-the-throw double to kick off the inning, with Devon Poeppelman reaching on a bunt single when no one was covering first. After Paxson grounded out and Niemeyer was intentionally walked, Craig Purpus singled in Hoying to make it 4-0. Knapke helped his cause with a single to score Poeppelman, followed by Niemeyer scoring on a wild pitch to make it 6-0.
In the bottom of the seventh, Knapke got the first two outs before walking Yoder. Chris Pitzo grounded to Purpus and Knapke took the throw at first base for the final out as Minster's celebration began.
"Just a big sigh of relief," said Heitbrink of his thoughts. "Just that we won. It was awesome."
"Black banner Number Three going in the gym," said Wiss with glee, a reference to the state titles won by boys' teams represented in the gym by a black banner - girls titles are orange. "Banner number 26 (overall) and number three for the boys."