Saturday, July 2nd, 2011
Wapak and Minster open tournament with victories
Auglaize County ACME Tournament
By Mark Ruschau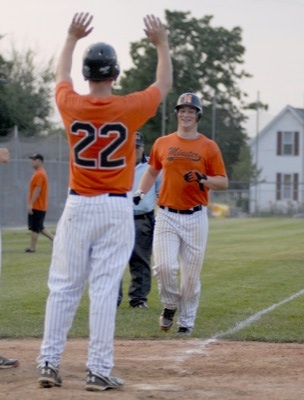 MINSTER - The Wapakoneta Redskins and the Minster Wildcats were each winners on the first day of competition on Friday in the Auglaize County ACME sectional tournament, but they were each victorious by different paths.
The Redskins scored a run in each of the sixth and seventh innings to defeat the New Bremen Cardinals 7-6.
Minster scored four runs in the first inning and rolled from there to 30-0 five-inning run-rule victory over the New Knoxville Rangers.
The Wildcats (6-4) return to action today at noon in a winner's bracket game against top-seeded St. Marys. New Knoxville (1-7) will take on New Bremen today in an elimination game, scheduled for a 2:15 p.m. beginning.
Wapakoneta 7, New Bremen 6
The Redskins used some late-inning magic to overcome a rough night in which they committed nine errors, leading to four unearned runs by New Bremen
Trailing 6-5 entering the sixth, Wapakoneta tied the game. Marshall Gerlach walked to lead off the inning and went to second on a wild pitch. New Bremen's pitcher Doug Kremer then recorded two outs, getting Chase Culver to pop out on a bunt attempt and striking out Andrew Hines, before number-nine hitter Alex Koch came through with the big hit, a double to the gap in left-centerfield to tie the game.
New Bremen looked to take the lead back in the top of the seventh as Alex Frideger doubled with one out, ending the night for Redskins' starting pitcher Brandon Miller. The Wapakoneta coaching staff then turned the ball over to Chandler Kaeck who shut the door on the Cardinals, striking out Kremer and inducing Clay Bertke to bounce out to first.
Josh Apple started the winning rally for Wapakoneta as he laid down a bunt single and moved to second when New Bremen's pitcher Clay Bertke threw the ball away at first. After a sacrifice by Brandon Schrieber, Miller produced the game-winner with an RBI single.
"There were a couple of plays in the game tonight that could of gone either way and they just did not go our way and you just have to live with it," said New Bremen's coach Logan O'Neill. "Now we have to battle through the loser's bracket and we have to come back tomorrow and play again."
Minster 30, New Knoxville 0 (5 innings)
The Wildcats jumped on Rangers' starting pitcher Jake Allen for four runs in the first inning and never looked back. Devon Poppelman led off the game with a double and scored on a two-out double by Ryan Hoying. Doug Huber drove in Hoying with a single to make the score 2-0 before Rob Wente launched a two-run home run to left-centerfield.
The first inning opened the flood gates as Minster went on to pound out 21 hits, including 10 for extra bases. Hoying led the barrage as he hit for the cycle, driving in 10 runs.
"It was good to see us put up some runs against a good pitcher early," said Minster's coach Scott Sherman. "We were able to get some runs on the board in the first inning and then we went out and played good defense and we came back in and hit some more. We hit the ball well and we put the ball in play."
Lost in all of Minster's offense was a sterling pitching performance by the Wildcats' duo of Austin Knapke and Andrew Knapke. Austin pitched the first threw three innings and allowed just two hits, while striking out four. Andrew pitched the final two innings, allowing just one hit.