Wednesday, July 13th, 2011
Cavs beat Bulldogs for sixth time this summer
ACME District Tournament
By Mark Ruschau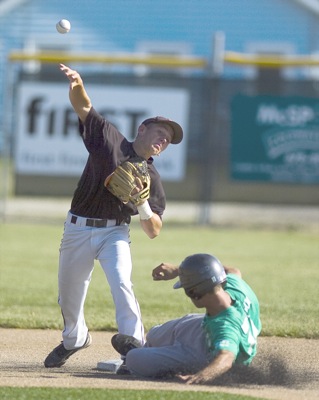 CELINA - The Coldwater Cavaliers rode the strong arm of Drew Klosterman and used some early offense to eliminate the Celina Bulldogs, 6-1, on Tuesday night in District 4 ACME baseball action at Montgomery Field.
With the win, their sixth of the summer over Celina, the Cavaliers move to the district final series against fellow Midwest Athletic Conference member Minster. The best-of-three series begins on Thursday at 7 p.m. at the Wally Post Athletic Complex in St. Henry.
Coming off a masterful relief effort against Celina on Saturday in which he shut out the Bulldogs for 2 2/3 innings, Klosterman continued his mastery on Tuesday night as he allowed just five hits and one run in gaining a complete-game win.
Klosterman allowed just two walks and struck out six. The Cavaliers' senior-to-be gave up a run in the first inning to the Bulldogs and then allowed two baserunners in the second and just two more baserunners (both walks) over the final 5 1/3 innings. Klosterman retired 16 of the final 18 batters that he faced.
"We always tell our pitchers to throw the first pitch for strikes, and for the game he was 68 percent strikes on first pitches," said Coldwater's coach Tom Brunswick. "I thought he got better as the game went on, started to get ahead of hitters."
"Drew did a great job of hitting his spots, but with that said, we were just not aggressive enough," said Celina's coach Rob Howell. "He was on and we were not and it was as simple as that. Coldwater is a good team, they play good defense, they did tonight and we didn't, congratulations to them."
Klosterman's teammates gave him all the run support that he needed by scoring twice in each of the first two innings. In the first with one out, Matt Selhorst walked, went to second on a balk and to third on a wild pitch before scoring on an RBI single by Alex Stammen. Stammen scored the second run of the inning as Jordan Klosterman and Drew Klosterman followed up with singles.
The bottom of the order came through for the Cavaliers as they scored twice in the second. Number-eight hitter Grant Muhlenkamp led off with a single and scored on an RBI triple by nine-hole hitter Drew Otten. Otten then scored on an RBI ground out by Randal Muhlenkamp.
It was not all peaches and cream offensively for Coldwater, however, as it left 10 runners on base, including seven in scoring position.
"We missed a lot of chances offensively to tell you the truth. We left two on in the first and left the bases loaded in the third," said Brunswick. "Grant and Drew came up big for us there in the second inning. When you get early runs like we did tonight, it helps your pitcher's confidence. Our goal was to come over and win in one game but there is no guarantee. We knew Celina was going to fight us to the end but we were able to score some early runs and hang on."