Thursday, July 14th, 2011
Luebke showing off versatility for the Padres
By Gary R. Rasberry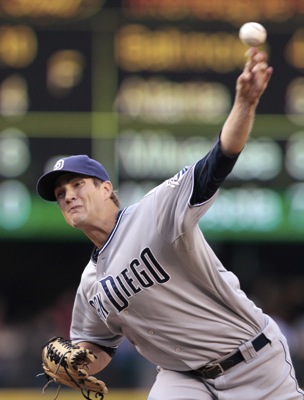 It didn't matter to Cory Luebke if he was starting or in the bullpen this season, as long as he was going to be in the big leagues.
As it turned out, he has excelled no matter which role he has had on the San Diego Padres' pitching staff.
The Marion Local graduate is gearing up for the second half of the Major League Baseball season that starts today after the three-day All-Star Break.
With the Padres having a deep pitching pool, especially in the starting rotation, Luebke began the 2011 season in the bullpen as a reliever. It was a role that he took to immediately.
"When the season started, I was just excited that Buddy (Padres' manager Bud Black) was going to give me a chance to throw out of the pen," said Luebke during a telephone interview on Tuesday. "It gets you a chance to be in the bullpen instead of going down to Triple-A and starting. I was excited for the opportunity to be able to throw out of the pen and help the team out."
Having primarily been a starter through high school, then at Ohio State and for 74 starts throughout the Padres' minor league system, the switch to shorter stints was a bit of a challenge at first for Luebke.
"It was definitely a little more intense at first than what I was used to," said Luebke of being a relief pitcher. "You're down there and the phone rings, it's a different kind of feeling when you've got to get going and get firing the ball. It's different, but I learned some things, that's for sure. You don't have time to mess around when you're in the bullpen when you go out. I found that out the hard way."
The "hard way" lesson came in the 11th inning on April 12 against Cincinnati. Luebke came on to pitch and gave up six runs in the inning to take his first loss of the season.
"It was a good learning experience," said Luebke. "I definitely take a few things from it. A few things I changed about my game after that. I made the best of it."
After the Reds' loss, Luebke's earned run average (ERA) was an eye-popping 11.37, but it didn't take long for Luebke to quickly lower it. A string of 12 straight scoreless appearances, Luebke dropped his ERA by eight points in a span of a month. During the stretch, Luebke picked up a win in relief on April 26 against Atlanta.
After taking the loss despite 3 1/3 innings of solid relief against Boston at Fenway Park, the opportunity to get back into the starting rotation came about due to some injuries. On June 26, Luebke made his first start of the season at Atlanta.
"He let me know the night after (Boston) at Fenway that they were giving me a few days off and my next outing was going to be a start," said Luebke. "(Aaron) Harang went down and I just wanted to help out any way I could."
On a tight pitch count since he had not thrown more than 65 pitches in an appearance, Luebke shut down the Braves for five innings, allowing a hit and a walk while striking out six. Luebke left the scoreless game that the Padres later won 4-1.
Then on July 2, Luebke went to Safeco Field in Seattle to face the Mariners and twirled another gem. He went six innings and allowed just two hits while striking out seven, to match his MLB career high. When he left after 87 pitches, the Padres led 1-0 and that margin held up as Luebke improved to 2-2 on the season.
Right before the All-Star Break, Luebke faced off against San Francisco and pitched six strong innings in a 2-1 loss against former Cy Young Award winner Barry Zito at AT&T Park in San Francisco. Luebke allowed just five hits and a walk while setting a new career high with eight strikeouts.
"I really didn't think I would have much of a problem," said Luebke about the switch back to being a starting pitcher. "I've kind of been blessed with a good arm that's never given me much trouble. I could tell that first start (75 pitches against Atlanta) I was a little tired toward the end. After that (87 pitches against Seattle, 100 against San Francisco), getting back to a normal routine and normal rest, the arm has felt great."
Luebke is currently 2-3 with a 2.57 ERA. In 56 innings pitched, Luebke has allowed just 18 walks and struck out 64 batters. His WHIP (walks and hits per innings pitched) is a spectacular 0.89 while opposing batters are hitting just .167 against him.
Being on a staff that features veterans like Harang, Heath Bell, Mike Adams and Chad Qualls - along with manager Black, a former MLB pitcher and pitching coach Darren Balsley - has helped Luebke greatly when looking for advice about improving his game.
"That was another reason I was glad they gave me an opportunity to start up here (big leagues) in the bullpen," said Luebke. "The amount of stuff I was able to figure out (by) just talking with other players, guys who have been in the game for awhile, I learned another pitch talking with the other guys. It definitely helps being around guys with the amount of experience they have."
Luebke's next start will be a rematch against Zito and the Giants at San Diego's PETCO Park on Saturday starting at 8:35 p.m. Ohio time.
"I'm looking forward to it," said Luebke. "Last start against the Giants was the first time I faced those guys in the lineup. Both sides felt each other out a little bit, but I'm looking forward to getting another crack at them."

Luebke's Season Stats:
G GS IP R ER H BB SO W-L ERA WHIP
32 3 56 17 16 32 18 64 2-3 2.57 0.89