Saturday, July 16th, 2011
Wildcats punch state ticket
2011 District 4 ACME Championship Series - Game Two
By Gary R. Rasberry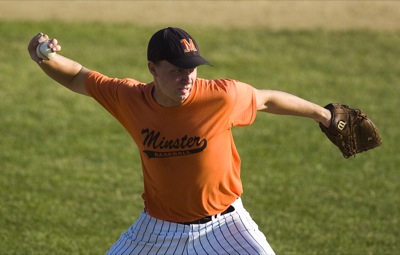 ST. HENRY - Minster spotted Coldwater a 2-0 lead, then used three Cavalier errors to score five runs in the fourth inning to clinch the District 4 ACME championship 5-2 on Friday night at the Wally Post Athletic Complex, sweeping the championship series two games to none.
The Wildcats (15-6), who won the Division IV state baseball title in the spring, will head to Celina on July 23 to face the winner of the District 6 tournament starting at noon. A bracket will be in the newspaper once all eight district winners are set.
The Cavaliers end their summer season with an impressive 22-5 record
Just like Thursday's opening game, a 3-1 win for Minster, a pitching duel was on tap as the Wildcats went with Doug Huber while Drew Klosterman, who pitched the Cavaliers to a win over Celina on Tuesday, got the start.
The Cavaliers drew first blood in the top of the third. After Huber got a strikeout on Matt Kramer, Grant Muhlenkamp singled. Drew Otten followed with a double to the gap, allowing Muhlenkamp to dash home for the opening run. A Randal Muhlenkamp groundout to short allowed Otten to score to make it 2-0.
"The bottom of our order came through again," said Coldwater coach Tom Brunswick. "Grant got a knock and Drew came up with a big (double)."
Klosterman shut down Minster in the bottom of the third, but immediately ran into trouble in the fourth after getting the first out. Adam Niemeyer reached on a bad throw and went to second. After Klosterman balked Niemeyer to third, Ryan Hoying singled to cut it to 2-1. Huber helped his own cause, doubling to right, allowing Hoying to score the tying run. Rob Wente followed with a single that broke the tie as Huber came home to make it 3-2.
Drew Elson stepped in and grounded to short in what looked to be a double-play attempt, but the throw to the bag was wild. After Ethan Wolf flew to short right. Jay Eilerman singled to score Wente. Devon Poeppelman followed by reaching on an error to load the bases for Brandon Hoying. After two quick strikes, Klosterman could not get another pitch into the zone, allowing the younger Hoying to draw the walk and get the RBI. Niemeyer ended the bat-around with a groundout.
"We're talking a lot to the kids about being mentally tough," said Minster coach Alyx Brandewie. "You get down two early like that, sometimes people hang their heads or start to doubt it a bit. Kids hung in there. When we got hot, we got real hot. Strung a few together and did a good job of taking full advantage of what they gave us."
"Our defense just let us down there," said Brunswick of the fourth. "Drew threw well enough to win (five innings, six hits, two walks) for sure.
"We didn't hit the ball the last two days," continued Brunswick, a reference to just 10 hits in the series. "When you make defensive mistakes, everything just gets magnified."
The quick burst pick up Huber, getting out of back-to-back jams in the fifth and sixth with runners on third. In the fifth. Randal Muhlenkamp smashed a liner that Poeppelman snagged out of the air to end that inning. Then in the sixth, the Cavs had runners on the corners with one out before Huber bowed the back and got back-to-back punch-outs to end that inning.
"That definitely helps you out," said Huber of pitching with the lead. "As a team, we're not scoring anything, then we get five runs. Get a cushion, you can pitch good."
In the seventh, Kramer singled, and Brandewie wasted no time to get to Niemeyer. Niemeyer struck out Grant Muhlenkamp, but Drew Otten singled to put two on. Niemeyer ended the game with a ground out to second and a ground out back to the mound to end the game.
"They have a good pitching staff," said Brunswick of Minster. "They can get their pitches over at anytime and Niemeyer throws pretty hard.
"But our season was a good one," continued Brunswick. "We came a long way. Replaced some spots we lost in the spring. Some kids improved their game and we definitely came together as a team."