Friday, July 22nd, 2011
Area farmer restores, shares agriculture's history
By Amy Kronenberger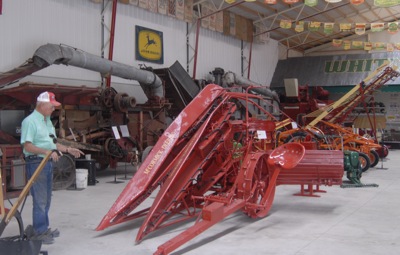 Joe Whitney is cultivating his legacy by preserving the history of area farming and his family's contribution to the profession.
The Whitney family hosts an annual plow day so farmers can bring their antique tractors and work the fields.
"It all began as a result of plows becoming out of date," Whitney said of the event which began five years ago. "We quit plowing about 20 years ago, and as a result, people are raising kids who've never seen a plow work."
Growers turned to no-till farming when the technology of specialized seeding equipment and herbicides became available, said Whitney's sons Mike and Cameron. Plowing is a lot more work, takes more hours and costs more money, they added.
Plowing was used to remove weeds and shape the soil into rows for planting crops. With no-till, farmers grow crops without disturbing the soil, which increases the amount of water and nutrients in the dirt and decreases erosion.
Whitney Plow Day is Saturday and includes free demonstrations to the public. Farmers come from as far away as Iowa, Illinois, Kentucky, Tennessee, Michigan and Canada to plow with their antique tractors, Whitney said.
The Auglaize County farmer will offer several of his own antique tractors, ranging in ages from 1945 to 1955.
"This is a day when young farmers can come out and watch and even try their hand at plowing if they wish," Whitney said.
Visitors also can also walk through the Whitney family museum on River Road.
Whitney, 75, began collecting and restoring antique farm equipment 15 years ago. Today the museum he built four years ago showcases his collection, along with family heirlooms dating back to when his grandfather started the farm at the turn of the 20th Century.
Whitney added to his collection by buying old equipment from farmers he would meet.
"I thought, what would happen to these old pieces if I don't buy them?" he said. "As you get older, you realize there are parts of history you want to preserve."
Whitney prefers to buy and restore pieces from the area but will buy from farmers farther away if they have something he can't find locally. His oldest pieces include an 1895 Hamilton corn picker and a 1905 reaper. On average, it takes $2,500 to $7,500 and 40 to 100 man-hours to fully restore a piece of equipment, he said.
Although Whitney will still purchase an antique piece when he finds one he just can't pass up, he admits he isn't as active as he once was.
"I'm slowing down now," he said. "I'm retired and I'm supposed to be doing what I like. Some days I like it better than others."
The museum holds many unique pieces, including a sleigh, his great grandmother's wagon, many tools, his grandparents' 1901 marriage certificate and a large wall photo album, which Whitney designed.
Also among his collection are many John Deere items, a large copper apple butter kettle, his grandfather's whetstone, books of St. Marys and Spencerville history, his grandparent's RCA phonograph and the crate it came in.
Whitney said the farm of his parents and grandparents was completely self-sustaining. They grew every fruit and vegetable that could be grown in Ohio's climate. The grain they grew went to feeding the livestock.
"My grandfather started this farm in 1902 on Mercer Line Road," Whitney said. "I did this because I wanted to preserve the past and how we farmed."

Whitney Plow day:
What: Plow demonstration using antique tractors
When: 9 a.m. Saturday
Where: Free parking will be available at Whitney Farm, north of St. Marys on state Route 197 and St. Marys River Road. Free transportation to the fields and the Whitney family museum will be available.
A food stand, run by Spencerville Trinity United Methodist Church, will provide lunch. All proceeds will go to their missions.