Monday, July 25th, 2011
Minster inches closer to ACME state title
Patient Wildcats wait for opponent in winner's bracket
By Gary R. Rasberry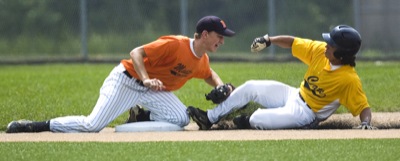 CELINA - The Minster ACME team had a wacky but very successful opening day of the 2011 State ACME Tournament at Montgomery Park over the weekend.
After starting the tournament with a quick 1-0 win over Springfield in the opening game, the weather forced the Wildcats to play the waiting game. Minster finally started its game against Toledo Central Catholic nearly five hours after the originally scheduled start time.
The wait didn't seem to bother Minster's players as the Wildcats advanced to the winner's bracket final following an 8-3 win over TCC.
Minster now waits to see who its opponent will be on Wednesday at 6 p.m., as the weather prompted state tournament officials to move the Greenville-Bowling Green contest (originally scheduled to be the final game on Sunday) to tonight at 7 p.m.
Sunday
Minster 8, Toledo Central Catholic 3
Minster had plenty of time to get ready for the game with the Irish after half a dozen weather delays and extra innings in the preceding Vandalia-Defiance game. The Wildcats, who arrived at Montgomery Field around 3:30 p.m., started their game at 9:45 p.m.
"It was a long time. We're here at 3:30 and game doesn't start for six hours," said Minster's coach Scott Sherman. "Made a couple trips to Menards, got some food. ... Tried to stay loose as much you can, but once it was game time, we flipped the switch and put it together."
The long wait didn't dull the Wildcats' bats, as a three-run burst in the second got things going for Minster. Drew Elson got the Wildcats' scoring going with a two-run single that scored Doug Huber and Rob Wente. Elson came home on an error following a hit to right field by Ethan Wolf.
"Yesterday, it took us all of seven innings to get it going," said Sherman of the offense. "It was nice to get up on them early. We did a nice job of continuing to add runs."
Minster scored two more in the fourth as Austin Knapke singled in Jay Eilerman, with Knapke later scoring on a TCC error trying to turn a double play. Three more runs followed in the fifth inning as two runs came home on an error off a Knapke bunt. Adam Niemeyer brought home the final run of the fifth with a fielder's choice.
That proved to be enough run support for Devon Poeppelman, who slowed down TCC, which scored 13 runs against Shawnee on Saturday. Poeppelman scattered five hits and six walks over 5 1/3 innings and struck out six to get the win.
TCC got a run in the second and another in the fourth before threatening to put together a huge rally in the sixth after loading the bases. Sherman called on Knapke to get out of the jam.
After allowing an RBI single to Joe Solomon, Knapke got back-to-back pop outs to end the inning.
"Devon, once again, did a great job," said Sherman. "Probably a few more free bases than we wanted, but he threw the ball phenomenally. At the end he was getting tired, but Austin came in (with a) bases-loaded jam and got the guys to pop out."
Niemeyer came on to pitch in the seventh inning, and after allowing a pair of two-out walks, he got a pop out to end the game.
Six different Minster players had the six hits against TCC, with Knapke and Elson driving in two runs apiece.
Saturday
Minster 1, Springfield 0
Both Doug Huber and Springfield's Riley Borders matched each other zero for zero through the first six innings of play.
Huber, who struck out 10 in the game, allowed just one hit - a one-out single to Chase Weber in the second - and issued five walks in the game, but no Springfield runner made it to third base thanks to solid defense.
"I was feeling pretty good pitching today," said Huber. "My curve was working and I had the defense behind me (no errors by either team). It's always easy pitching when you have the defense."
"Doug was phenomenal today, especially on the mound," said Sherman. "He was around the plate all day. He kept them off-balanced. He let the defense do the work like we preach."
Borders allowed eight hits and three walks, but Minster was unable to get anyone home in the first six innings. The Wildcats stranded 11 total runners in the game.
Finally, in the bottom of the seventh, Minster put a run on the scoreboard. Poeppelman led off with a bloop single just over the first baseman and advanced to second base on a wild pitch. Austin Knapke laid down his second sacrifice bunt of the day to send Poeppelman to third.
Springfield walking Niemeyer and Ryan Hoying to load the bases for Huber, who had three long fly outs in his first three at-bats. Borders threw three straight balls to Huber, and after a chat with the coach, Borders got a strike across as Huber was clearly taking the pitch. On the next pitch, Huber singled to right to easily score Poeppelman and end the quick game (1 hour and 35 minutes).
"Sherm was down here making sure I wasn't going to swing," said Huber of his coach. "The next pitch was right down the middle. I took it to right-center(field)."
Wente had a pair of doubles for Minster, while Knapke added a two-bagger.

Schedule:
Tonight
Winner's Bracket
Bowling Green vs. Greenville, 7 p.m.
Tuesday
Elimination Bracket
Shawnee (25-9) vs. BG/Greenville loser, 6 p.m.
Toledo Central Catholic (16-9) vs. Vandalia (16-11), 8 p.m.
Wednesday
Winner's Bracket Final
Minster (17-6) vs. BG/Greenville winner, 6 p.m.
Elimination Game
Tuesday's winners, 8 p.m.
Friday
Elimination Bracket Final, 7 p.m.
Saturday
Championship Game, noon (if second game needed, game will be played immediately following first game).