Thursday, July 28th, 2011
Petition seeks tax revote
By William Kincaid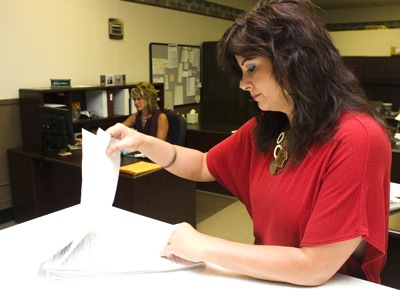 CELINA - Celina residents may get another chance to vote on the city's income tax rate.
Resident Richard Crider on Wednesday morning delivered an initiative petition to the city auditor's office to get an issue on the November ballot that, if approved, would return the income tax rate to 1 percent effective Jan. 1, 2012.
He submitted 19 petitions containing 557 signatures; 338 valid signatures are needed to get the initiative on the Nov. 8 ballot.
The city auditor next will transmit a certified copy of the text of the proposed ordinance to the board of elections in 10 days. Board of election members then will determine whether enough signatures are valid to put the issue on the ballot.
In November 2010, 53.7 percent of voters approved raising the income tax by a half percent to 1.5 percent after city projections showed a deficit for this year. When the city had a carryover of more than $1 million at the end of 2010, many residents spoke out in anger and a local attorney suggested residents gather signatures for an initiative to put the income tax increase in front of voters again.
Crider said the initiative has nothing to do with fire trucks, employee raises or benefits - it's about allowing the people to vote again.
"People just feel like they were deceived," he said.
If the city needs the additional half percent income tax, officials now have the opportunity to prove it, he added.
"Frankly, I don't care which way it goes," Crider said.
Crider said he is tickled about the number of signatures collected, which he believes shows that some people are upset with how unresponsive and out of touch the local government is with the community.
City councilwoman Angie King this morning said city services may be negatively impacted if the initiative passes in November.
"We'll live within our means, but I don't think it will be pleasant," she said.
King said she's very concerned that citizens don't have a full understanding of what impact the initiative would have on the budget. The additional half percent brought in $450,361 as of June 30 and is expected to hit near $1 million by the end of the year.
King encouraged citizens with questions about city finances or how money is spent to attend the personnel and finance committee meetings held at 6:30 p.m. the fourth Monday of the month, before the regular council meeting.
Mayor Sharon LaRue this morning said city administration has not yet discussed the petition.
"We've not had a chance to talk about it yet. I'm sorry to see that he's doing that," she said. "Until the administration has a chance to talk about it, I really don't have any comments about it."
The signatures were collected by Crider, Thomas May, Harry Sunderland, Brian Wynk, Ronald Luebke, Donald Chizek, James Burckholter, Jackie Fowler and Donald Gehle.