Saturday, July 30th, 2011
Minster's run falls short of title game
By Gary R. Rasberry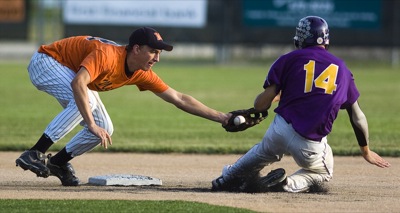 CELINA - A strong effort by Minster fell short as the Wildcats bowed out of the 2011 ACME state baseball tournament, following a 3-2 loss to Vandalia in the elimination bracket final on Friday night at Montgomery Field.
Vandalia (19-11) will take on Bowling Green today at noon in the state ACME championship game. Should Bowling Green (17-7) lose the first game, a second winner-take-all game will be played shortly after the end of the first game.
The long summer ends for the Minster squad, who literally went from Columbus with a Division IV state title straight into the ACME season with the annual trip to Tennessee. Minster takes home third place in the tournament and bows out at 17-8.
"Success is contagious," said Minster's coach Scott Sherman. "Once you get that taste of winning, you want to keep winning. I give this group of kids a lot of credit. They came out almost every night this summer, especially the last month or so, (and) gave it their all. They did an unbelievable job playing baseball."
Minster was able to strike first on Vandalia as Doug Huber led off the second with a base hit and moved to second on a passed ball. With two out, Ethan Wolf grounded to first, but Vandalia's Colin Pratt misplayed the ball, allowing Huber to score.
Huber, getting the start on the mound after a relief stint on Wednesday, got through the first two innings unscathed, but Vandalia got on the board in the bottom of the third. With one away, Pete Yorgen singled and stole second. After Huber enticed a groundout, Lance Straly walked to put two runners on base for Kevin Brackman. Huber worked the count full before Brackman cleared the bases with a single to make it 2-1 in favor of Vandalia.
Josh Edwards held Minster at bay through the fifth, but in the sixth the Wildcats made a last stab at tying the game. Austin Knapke led off by getting hit by a pitch. Adam Niemeyer just missed a single when second baseman John Myers leaped up to snag a line drive for an out. Huber stepped up and singled to put two on for Wente, who blooped a ball to right to score Knapke. Vandalia's rightfielder Travis Mullins got the ball to first before Wente made it safely to get the rare 9-3 putout.
Eric Hansman came on to try and get the final out, but hit Drew Elson to put runners on first and second for Ethan Wolf. Wolf hit a drive to center on a hit-and-run. Jacob Wuebker, running for Huber, was heading home as Craine fired a perfect shot to Straly at the plate. Straly blocked the plate and put the tag on Wuebker to end the threat.
"We got the two-out hit we needed," said Sherman. "(Craine) came up throwing and (Straly) did a nice job blocking the plate. That was that.
"It was a full court, so (Wuebker) was already moving. "You already made up your mind before the kid even hits the ball. You have to make them make a play. They did a phenomenal job, not just that play but all night."