Saturday, July 9th, 2011
Tasting Celina
Hundreds turn out for block party to celebrate new Main Street, businesses
By Betty Lawrence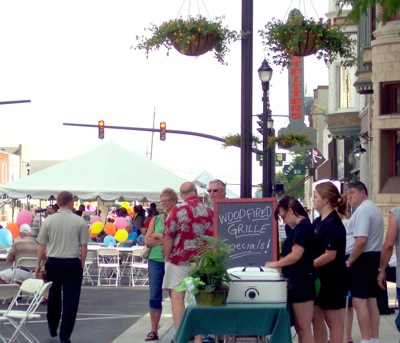 CELINA - The city celebrated the reopening of its downtown in grand style Friday evening with a Taste of Celina Block Party.
Hundreds of people mingled on the reconstructed Main Street where 16 area restaurants were offering food and drinks.
Celina-Mercer County Chamber of Commerce Director Pam Buschur said ticket sales for food tasting topped 5,000 by 6 p.m., just one hour into the event.
"It's more than we expected and we ran out and had to buy more tickets," Buschur said. "But that's a good thing."
Road closed signs that blocked the city's main thoroughfare were the norm this summer during the height of the city's $3.2 million Main Street reconstruction project.
"The new downtown is the best thing to happen," said Jason Dorsten, manager of C-Town Wings (the former Smedley's on Main Street. "It's just beautiful, and the Taste of Celina is a great way to break into summer. I would like to see it become an annual event."
Celina Mayor Sharon LaRue was all smiles just prior to the ribbon-cutting that marked the opening of the new street.
"The most frustrating part of the whole project was when we had to shut off the streets. There were some complaints, but most people and businesses were cooperative," she said. "They could see into the future. It is a great thing for the community."
Bella's Italian Grille owner Julie Fleck said she was happy to be a part of celebrating downtown.
"The street is beautiful, and I'm especially happy to have downtown open again," Fleck said, adding her restaurant south of downtown has picked up measurably in the past few weeks.
Ira Belcher, former owner of Wilson Shoe Store on Main Street, entered his 1955 Plymouth in the car show that was part of the Friday activities.
"The future looks so great for Celina," Belcher said while enjoying dinner by his car. "This town is a jewel, and I wouldn't want to live anywhere else."
Belcher, who now works part time at the shoe store, said the business wasn't hurt too much by the street closing this spring.
"But the street had to be closed to get the work done and look how it's turned out," he said smiling.
Beer and wine tasting at Java Nation, live music and performing artists rounded out the evening that organizers hope will become an annual event.