Monday, August 1st, 2011
Fair winners inspire young baker
By Margie Wuebker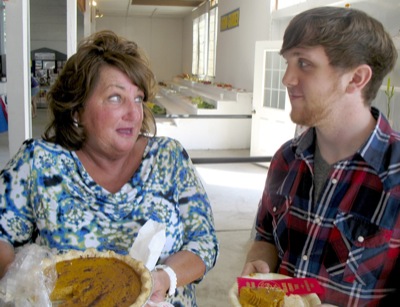 WAPAKONETA - Luke Huelskamp tiredly watched judges at the 159th Auglaize County Fair sample his baked goods ranging from pumpkin pie to ketchup cake.
"I haven't been to bed yet," the 18-year-old St. Marys man said midway through the Sunday morning competition. "I started baking Saturday at 8 p.m., and I finally ran out of time and flour."
Huelskamp, a 2011 graduate of Memorial High School, smiled broadly as judge Jo Etta Spain of Bellefontaine, placed a second-place red ribbon next to his pumpkin pie. Just earning a ribbon - any ribbon - is more than enough compensation for the time invested.
"Luke did a really nice job," Spain said. "The crust is nice and flaky while the filling is perfectly done."
He began entering the fair's culinary department competition last year and also earned a red ribbon for the unique ketchup cake, which closely resembles red velvet cake in taste and appearance.
"I'm always looking for new recipes," the baker admitted with a smile. "I found the ketchup cake recipe on a ketchup packet last summer while working at the Lake Drive-In. It was something out of the ordinary, so I decided to give it a try."
Huelskamp, who entered three cakes, two plates of cookies and the pumpkin pie, draws inspiration from family members and neighbor Doris Cook of St. Marys, who collected first-place blue ribbons for her angel food, devil's food, burnt sugar, marble and applesauce cakes.
Beverly Applegate of New Bremen could be his culinary hero after taking best of class rosettes for her peach pie and spice chiffon cake. She credits her mother, the late Leola Tangeman of New Bremen, with instilling a love of cooking and baking.
"I've been entering cakes and pies at the fair for a long time," she said. "It is really good to see younger people getting involved."
Huelskamp also credits his mother, Cindy Huelskamp, with encouraging his culinary efforts.
"Luke became interested in cooking at a really young age," she said. "His brother Caleb likes to eat what we make, but he grills quite a bit outside. It's nice having more than one cook in the family."
The teen also works in the bakery at Krogers in St. Marys.
"Luke doesn't get started baking until 9 or 10 at night, so I wake up in the morning to find a treat and a mess," Cindy Huelskamp said. "He may be a good cook and baker, but he has a few lessons to learn about cleaning the kitchen afterward."
Cooking runs in the family. Relatives have their own competition at the fair to see who claims bragging rights for the year. Luke Huelskamp earned this year's round with his red ribbon beating out his mom, aunt Dianne Hengstler and cousin Desiree Fiebelkorn.
The family enjoys the open judging at the fair because the competition becomes a learning process. Drawing on what he learned this year, Huelskamp is already contemplating next year's entries. He hopes to perfect his candy making and bread baking skills.
"I'll be back next year hungrier than ever for a blue ribbon," he said.
Spain said the heat and humidity had an effect on the number of entries - only two blueberry and raspberry pies were submitted. Fellow judge Pat Woolley of Jackson Center agreed but noted cakes seem to be the most heavily contested category despite weather conditions.
"There are a lot of good bakers in Auglaize County," Woolley added. "And many of them are represented here at the fair."