Tuesday, August 2nd, 2011
Fair the end of the road for market animals
By Amy Kronenberger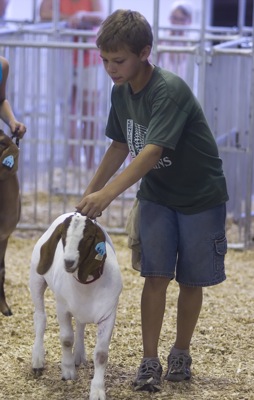 WAPAKONETA - For the first time, every market animal brought to the Auglaize County Fair must be sold at the end of the week.
In previous years, anyone bringing more than one animal had the option to take one back home, Jack McBride, head of the selling committee said Monday. Now, every animal will be sold to slaughter.
McBride said the senior fair board changed the policy to ensure all market animals went to market and to assist fair workers previously charged with separating the animals after the shows.
Having the animals go to market can be traumatic for some children.
"Most kids that show animals have been brought up on farms and understand that at the end of the day, that animal is food on the table," McBride said. "But other kids just don't understand. No one explains to them that the hamburger they're eating comes from a cow. They come to view the animal they raise as a pet."
McBride said giving their animals up at the end is an important life experience that all kids should learn.
Maria Stein veterinarian Mitch Michalak said her daughter was very upset the first year she brought an animal to the fair.
"But by her second year, she understood and was fine with it," she said.
Michalak is showing sheep with her teenage son and daughter.
Besides showing market livestock, residents can enter the breeding category to compete in showmanship. These animals are not sold to market but returned home for breeding.
Second generation sheep shower Tim Vondenhuevel and his son, Kaleb, a senior at Wapakoneta High School, were trimming sheep Monday for today's showmanship competition.
"Anyone can buy an animal," Tim Vondenhuevel said. "But it takes a lot of training and hard work to be a good showman."
The family travels around the country competing at state fairs.
"It's been some of the most memorable times with my kids," Tim Vondenhuevel said. "I'm really glad I got to experience traveling the country with them."
"We have a lot of great friends around the country," his son added. "It's experiences like that that keep you interested in 4-H."
The most popular animals at the Auglaize County Fair this year are goats. In 2005, only 40 market goats were entered; this year, 121 are here. Pen locations had to be moved and adjusted to accommodate the influx of entrants.
While the fair has offered a turkey category every year, this is the first year turkeys have been entered - 14 market hens and 14 market toms.
The turkeys being shown are some of the biggest McBride has ever seen. The birds had to be weighed on cattle scales since chicken scales only handle up to 30 pounds.
"When you buy a frozen turkey at the store, you're lucky to find one that weighs 20 pounds," he said. "These turkeys here are 40 to 50 pounds, and one weighed in at 52 pounds."
Chickens also are becoming more popular - 62 are being shown this year, up from 14 in 2005.
With the rising popularity of smaller animals, hog numbers have dropped. This year 384 were entered, down from 416 in 2010 and 448 in 2009.
The numbers are falling because more and more hog farms are contracted, McBride said. A company owns the hogs and pays farmers to raise them. Farmers are unable to offer the hogs for show.
Another reason for the increase in goats and poultry is they require less space and cost to raise them, McBride said. They also only take a few months to raise, as opposed to a year or more for steer.
McBride said last year's livestock sales grossed more than $500,000. He expects to gross more this year because of the increase cost of livestock and new rule to sell every market animal.