Thursday, August 11th, 2011
Car jumps Coldwater Creek; driver injured
By Margie Wuebker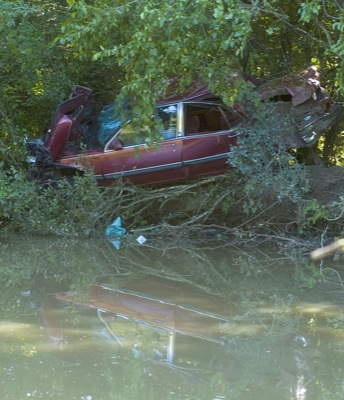 A 16-year-old Celina boy is undergoing treatment at a Dayton hospital following a Wednesday night accident that touched off a search of Coldwater Creek for a possible passenger.
Jakob Michael Wenning, 5460 St. Anthony Road, was traveling eastbound on St. Anthony Road at a high rate of speed when he reportedly drove through the stop sign at Coldwater Creek Road just after 11 p.m., according to a Mercer County Sheriff's report.
His 1990 Buick veered off the pavement, struck and traveled over a guardrail, smashed into another road sign and proceeded into a wooded area along the northwest creek bank. The car then traveled across the creek and came to rest in a wooded area along the southeast bank.
Wenning apparently crossed the creek and walked back to the road, where a passing motorist spotted him covered in blood. The woman stopped, and he could offer no explanation as to what had happened other than to say he awakened on the creek bank.
Wenning apparently suffered a seizure at that point and was unable to tell first responders whether he had a passenger.
The Celina Fire Department dive team assisted at the scene by searching the 4- to 5-foot deep creek and checking the demolished car and wooded area. Authorities subsequently learned from a family member that Wenning likely had no one with him.
The youth was transported by ambulance to Mercer County Community Hospital in Coldwater. Following treatment in the emergency room, he was transferred by ambulance to Miami Valley Hospital in Dayton. A spokeswoman said Wenning continues to undergo evaluation and no condition has been assigned to his case as yet.
Deputies determined that Wenning was traveling at least 75 miles per hour at the time of the accident. He will be cited for reckless operation, according to the accident report.
In addition to sheriff's deputies and dive team members, responders included Coldwater Police and ambulances from the Celina and Coldwater fire departments.
The vehicle remained at the accident site with removal efforts to commence later today.