Wednesday, August 17th, 2011
Hard work pays off for two equestrians
County fair
By Betty Lawrence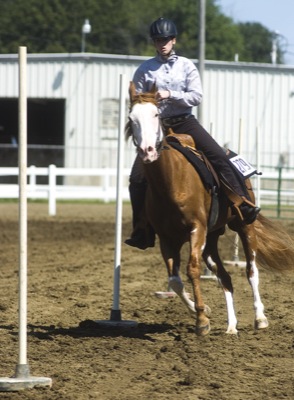 CELINA - Horses with braided manes and riders with hunt seat tack and attire competed in front of judges at the Mercer County Fair on Tuesday.
In the hunt seat equitation competition, the rider, rather than the horse, is evaluated. Judging is based on the rider's performance, control of the horse and correct form.
When the dust cleared, Lindsey Walls and Madison Rose claimed the titles of Grand Champion and Reserve Champion, respectively.
"Making the time to practice with your horse is probably the most important, but the hardest part of this," Walls, 16, of Mendon said. "And you can't let yourself get frustrated when riding because your horse will sense that too and it also gets frustrated. But winning the title, that's the payoff, that and the trophies."
Equitation riders must always be in balance with their horse, maintaining correct position in each gait from trot to cantor. Hunt seat and dressage are classic forms of English riding.
Walls won the competition riding her 14-year-old quarter horse, Babe. She is a member of the Trailblazers 4-H Club and is the daughter of Kerry and Heidi Walls of Mendon.
Rose, 14, of Coldwater, rode her horse, Rocky, who is a Pony of Americas, often referred to as a POA. She is a member of Dogs R Us 4-H club and is the daughter of Dan and Michelle Rose of Coldwater.
Both dedicated young ladies train and compete with their horses throughout the year. Each has been competing for several years.
"You just have to stay calm because when you get stressed, your horse will too," Rose said about competing.
Both girls' parents said working with horses involves the entire family.
"It takes a lot of work, loading up the trailer with all the equipment and preparing for a show, but it's such a great thing for the youth to be involved in," Michelle Rose said.
In the horse versatility contest held earlier in the day, Kayla Walls placed first and Sarah Homan placed second. In the hunter under saddle event, Rose placed first in the junior division and Shelby Prenger, second, while Sarah May Walker came in first in the senior division and Kayla Walls, second.

Schedule:
Today (Kid's Day/DARE Day)
• 10 a.m. - kiddie pedal tractor pull
• Noon - showman of showmen
• 12:30 p.m. - treasure hunt
• 1:30 p.m. - color contest
• 2:30 p.m. - cookie contest
• 3 p.m. - bubblegum blowing contest
• 5:30 p.m. - diaper derby
• 7 p.m. - high school marching band show
• 8:30 p.m. - auction of Bear Hollow Wood Carvers pieces
Thursday (Family Day)
• 11 a.m. - horse award presentation banquet
• 1 p.m. - horse fun show • 3 p.m. - junior fair livestock auction
• 6:30 p.m. - Big Air Insanity Tour stunt cycles and Smash It demo derby
• 8 p.m. - tractor twist fair finale dance
• 8 p.m. - music by Backyard Cinema DJ