Tuesday, August 23rd, 2011
By Mark Ruschau
Zizelman delivers game-winner for Celina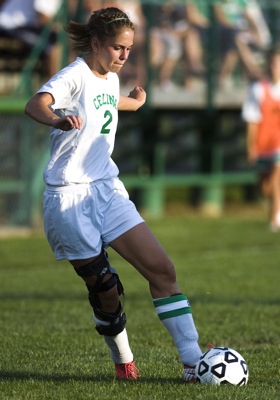 The Celina girls' soccer team opened the 2011 season in dramatic fashion by scoring with less than three minutes left in the game to garner a 1-0 win over the Findlay Trojans on Monday at the Soccer Stadium in the season opener for both teams.
The win was especially sweet for the Bulldogs as they were not only able to defeat a long nemesis in the Trojans, but with Celina's move to Division II a win over a Division I program also looks good on the resume going forward.
"Findlay is a great program with great athletes and to beat a program of their caliber, we are very happy," said Celina's coach Calvin Freeman. "We have dropped down to Division II from Division I and for us to beat a program like this gives kudos to the hard work the girls have done the last month and a half."
The lone goal of the game was scored with just 2:50 left in the contest as Celina's senior forward Lexi Mills made a great pass from the left side of the defense to fellow Bulldogs' senior Georgi Zizelman, who made a nice move on Trojans' goalie Olivia Bair before putting the ball in the back of the net.
"I thought the girls gave just a fantastic effort tonight," said Freeman. "I thought the girls played well as a team. We have been struggling because we had to move some people around because we lost some people from last year. We had some holes to fill, but the girls came out and played hard and they played hard the entire game.
"We came out like a house afire, we had several opportunities and we missed. At half time we made some adjustments. We kept telling them to keep doing what they are doing and all we have to do is finish the play. The opportunity happened, the girls made two nice runs off the ball, we got a nice cross and Georgi put the ball back in the net instead of shanking the shot like we did in the first 10 minutes of the game," added Freeman.
The Bulldogs had three legitimate scoring chances in the first nine minutes of action. In the fourth minute, Alex Parker hooked up with Kari Stachler, whose shot was just over the crossbar of the goal.
In the sixth minute, Mills got loose just outside the 25-yard box before turning and firing a shot that again went over the crossbar.
In the ninth minute, a corner kick by the Bulldogs came free into the box but Bair fell to the ground to make the save.
Additional online stories for this date
Print and E-Edition only stories for this date
• Digester project gets $1M boost
• Area native pedals for a cause from Virginia to California
• New St. Marys teachers greeted before school year
• Bids will be taken for street repair
• Officials taking count of resident population
• Council votes to stay in class-action lawsuits
• Mercer County ties for lowest unemployment
• Coldwater's girls, St. Henry's boys win team titles
• Bulldogs blank O-G in WBL's opener
• Schwieterman farm approved for state preservation money
• Otten welcomes back veteran team this year
• Coldwater loaded with talent and experience
• Fort Recovery's harriers are aiming high
• Marion Local counting heavily on newcomers
• Continued success expected for Wildcats
• Cardinals expecting hard work to pay off
• Parkway's bigger roster loaded with youth
• St. Henry's boys aiming to repeat in MAC
• Roughriders focused on continued improvement
• Youth, inexperience concerns for Bulldogs
• Cavaliers are counting heavily on veterans
• Indians relying on experience of five seniors
• Lady Flyers balanced; boys are rebuilding
• Wildcats should be contenders for MAC title
• Youth is the biggest obstacle for New Bremen
• Parkway's boys optimistic while girls' team is facing a year of rebuilding
• Wealth of experience back for St. Henry golf
• Ross likes what he sees from Roughriders
• Experience will be an asset for Bulldogs
• Cavs aiming for winning record, tourney win
• Roughriders hoping to contend in the WBL
• Bulldogs aiming to repeat in WBL
• St. Marys' first-year coach has veteran lineup



Photo Albums
Saturday, February 25

Saturday, February 25

Saturday, February 25

Saturday, February 25


Online Video