Wednesday, August 24th, 2011
Debating poll locations
Legions to host St. Henry, Fort Recovery vote
By William Kincaid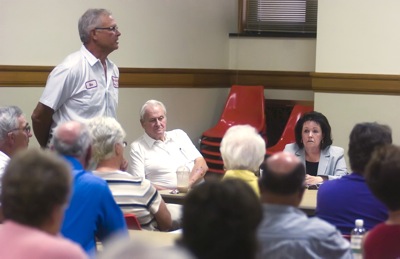 CELINA - Public outcry and offers of financial assistance led Mercer County Board of Election members on Tuesday to move the polling locations from Fort Recovery and St. Henry schools to the American Legions in those towns.
The change goes into effect immediately.
Democratic board members Betty Cook and Mark Uhlenhake previously opposed moving the two polls because of financial concerns. However, they changed their minds after Legion representatives on Tuesday said they would pay to bring their facilities in compliance with Americans with Disabilities Act (ADA) requirements.
Mike Kahlig of Fort Recovery American Legion and Bill Freisthler of St. Henry American Legion also offered to pay the board's mailing costs to notify voters about the change.
However, Mercer County Assistant Prosecutor Amy Ikerd recommended not accepting donations for mailing costs to avoid the perception of impropriety.
It will cost nearly $500 at St. Henry Legion and $1,400 at Fort Recovery Legion to address door threshold issues and provide adequate ADA parking.
Mailings to voters is estimated at $820 for St. Henry and $940 for Fort Recovery.
The elections office has $7,285.35 budgeted for expenditures for the remainder of the year. That number drops to $4,951.69 after voter notifications are sent to residents in St. Henry, Fort Recovery and Maria Stein. The Maria Stein location was moved during a vote last month.
Polling locations were moved to schools in Maria Stein, St. Henry and Fort Recovery in 2008. School superintendents have repeatedly asked the board to move the locations because of safety concerns and increased traffic during the school day.
Several poll workers and concerned citizens, including St. Henry and Fort Recovery school administrators, filled the auditorium of the courthouse for the special meeting Tuesday.
Uhlenhake asked the crowd the reason why the county would invest to make ADA compliance fixes at private businesses when a public building is available and in compliance.
"Financially, it just doesn't make any sense to me," he said.
As far as rhetoric about safety, sheriff deputies patrol the polls, Uhlenhake said.
"There's always a threat in any building," he said.
People can always vote absentee or early at the board of elections office, Uhlenhake said.
"This is government at its best," he said about the large crowd. "I respect any of your input."
Cook agreed with Uhlenhake's comments.
Board member Toni Slusser said the crowd should have a say in how their taxes are spent.
"It looks to me that there is money there," Slusser said of the budget.
Board chairman Owen Hall said schools don't want the polls at the schools.
Uhlenhake and Cook are Democrats and Slusser and Hall are Republicans. In July, the foursome voted along party lines on the motion to move the polls in St. Henry and Fort Recovery. The motion failed because of the tie vote.
Residents attended the board's regular meeting last week to discuss the issue. Uhlenhake did not attend that meeting, so a special meeting was held Friday. Uhlenhake and Cook failed to appear at Friday's special meeting, spurring the need for Tuesday's special meeting.
Crowd members on Tuesday questioned members about the politics of the board.
"We leave our politics out the door," Uhlenhake said, assuring the crowd politics has nothing to do with his decisions.