Tuesday, August 30th, 2011
Heavy rains mar alum study at Grand Lake
By Nancy Allen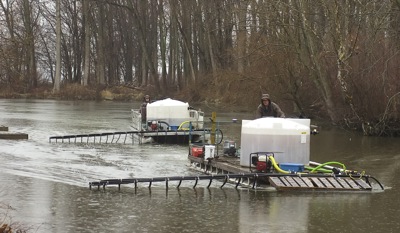 GRAND LAKE - Heavy spring rains washed away chances for a successful alum study on Grand Lake this year.
"The bottom line is things were looking good and we were measuring significant phosphorous reductions and then the weather took over," Ohio EPA spokeswoman Dina Pierce said this morning.
Three sites were dosed with alum in early April and monitored for 30 days. A report analyzing the results doesn't include data from the alum application in the center of the lake this summer.
Two test areas where liquid alum was applied - the state park campground bay and Windy Point east channel - showed good results until they were overwhelmed by high water and big loads of phosphorus washed into the lake, says the report from Tetra Tech, the firm hired to do the study. Initial tests showed phosphorous reductions of 81 percent at the bay and 90 percent at Windy Point, Pierce said. The bay was pretreated with hydrogen peroxide followed by liquid alum. The Windy Point channel received liquid alum and sodium aluminate to buffer ph levels so fish were not stressed.
Granular alum pellets applied at the third test site - Kozy Marina channel - could not be evaluated effectively because of the unusually high amount of phosphorous washed into the lake this spring, the report says.
Curtains that separated test areas from the rest of the lake also were overwhelmed by excess water and marred results, Pierce said.
The $47,102 study was paid for with an Ohio EPA 319 grant awarded to the Ohio Department of Natural Resources.
Aluminum sulfate (alum) inactivates phosphorous, the main food source of the lake's toxic blue-green algae that bloomed so severely last summer, the state issued a no contact water advisory.
Despite the uncooperative weather, Pierce said the experiment and an alum study done last year helped state officials plan a $3.4 million alum treatment done on the lake in June. Results from that application have not been released.
"We still learned from this and used the information to scale back the main lake treatment," she said. "We knew the highest concentration of phosphorous was in the middle of the lake, so we hit that (4,900-acre) area with a higher dose.
"We think this strategy has helped keep blue-green algae in check this summer, when we experienced the hot, dry, calm weather in June through July," Pierce said. "Microcystin toxin levels have been nowhere close to what they were in 2010 or 2009."
The highest levels reached this year were 43 parts per billion (ppb). Last year levels of 2,000 ppb were recorded.