Wednesday, August 31st, 2011
Bulldogs no match for Redskins
By Ryan Hines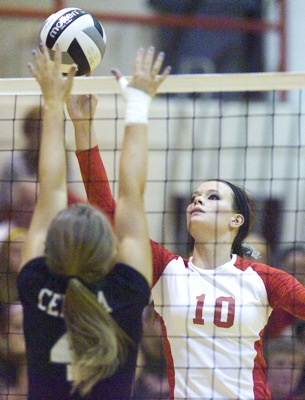 ST. HENRY - Diane Kremer had her full varsity volleyball team together for the first time on Tuesday when St. Henry hosted Celina and she liked what she saw.
The Redskins got warmed up with 25-18 and 25-21 wins in the first two games before wiping the Bulldogs off the floor in game three, 25-5.
"We had three girls that were either out or weren't at full strength for us on Saturday (at Coldwater's Cavalier Spike-off invitational) but it was sure nice to see the whole team together for the first time," said Kremer. "I thought we played a really good all-around game against a very good team. Celina will win a lot of games this year. I'm very, very proud of our team."
Kylie Koesters (back spasms) and Abby Brunswick (sprained ankle) were battling injuries and Michelle Bruns was absent because of a wedding as the Redskins finished as the runners-up in Coldwater on Saturday.
While Kremer liked the play of her team, it was complete frustration for Celina's head coach Carolyn Dammeyer.
"We always seem to struggle out this way for some reason," said Dammeyer. "I thought we played pretty well at the start of the first and second games, but we kind of lost it about two-thirds of the way through those first two games. Just a frustrating start to our season."
The meltdown by the Bulldogs (0-1) in the third game was especially tough for Dammeyer to witness.
"We just totally shut down in the third game. I didn't see any leadership on the court," said Dammeyer. "I don't know how to explain it, but I hope that I don't ever see that again. We have seven seniors and there is no reason why we din't play with confidence. Maybe first-game jitters, I really don't know."
St. Henry (3-1) won the first 12 points in the third game with Ashley Heitkamp, who had three aces, behind the service line.
"I thought our serving tonight was very effective," said Kremer. "We found some weaknesses on serve-receive and I thought our girls did a good job of exploiting it. Volleyball is all about momentum and we had it and they didn't. When you don't have the momentum, it's tough to battle back. This is the best that we have played to this point."
Celina earned just one point on its own during the third game with the other four points being scored on St. Henry's errors.
"We just didn't compete in that third game," said Dammeyer. "We got behind big early and never fought back. I know that we are a better team than what we showed tonight. We need consistency in all areas."
The first two games were a lot more competitive, but St. Henry seemed to turn the corner when it was tied 10-10 in each instance.
With the score knotted at 10-10 in game one, St. Henry's Taylor Clune blasted a kill and Kenzie Kleinhenz had a stuff block before a Celina hitting error led to a Bulldogs' timeout with the Redskins in front 13-10. The Redskins' lead never dipped lower than two points the rest of the way in the seven-point victory.
In game two with the score tied at 10-10, St. Henry's Katie Hoyng and Kleinhenz each hammered home kills before back-to-back aces by Clune put the Redskins in command 14-10. The Bulldogs never got never got closer than two points the rest of the way before the Redskins powered to a 25-21 win.
The Bulldogs won't have much time to lick their wounds as Western Buckeye League play begins on Thursday when Celina travels to Ottawa for a matchup of the WBL's top two programs. Celina and Ottawa-Glandorf have combined to win the last five WBL championships with the Bulldogs being the three-time defending champs.
"We have to regroup quickly because we start the league schedule on Thursday against a very good team on the road," said Dammeyer.
St. Henry opens Midwest Athletic Conference action on Thursday with a road trip to Fort Recovery.