Saturday, August 6th, 2011
Auglaize fair a 'success' despite heat
By Amy Kronenberger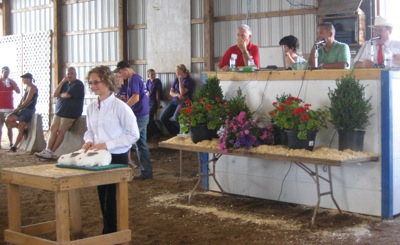 WAPAKONETA - Excessive heat early in the week took its toll on animals and attendance at this year's Auglaize County Fair.
But temperatures cooled and humidity waned in time for officials to deem the event a "terrific success."
Fair manager Fred Piehl said the week started slow with temperatures above 90 degrees Monday and Tuesday. However, crowds increased as the air cooled, bringing attendance to normal levels.
"The evenings cooled off nicely, and as the week progressed the temperatures dropped a bit," he said. "By Thursday, there was standing room only in the grandstands."
Hot conditions also affected the livestock.
Five hogs were quarantined with heat-related pneumonia and at least two died, Junior Fair sale committee chairperson Jack McBride said. All five hogs were pulled from show.
A couple chickens and rabbits also succumbed to the heat, and a lamb died from a massive heart attack.
"This has been a really hot week and showing is very stressful on the animal," McBride said. "Very rarely do we lose an animal at the fair. This year I think it was the heat and too much stress."
Friday's auction of steers, rabbits, poultry and goats was a success, McBride said. The champion steer brought in $11,650 and the champion dairy steer sold for $2,900.
The auction for the hogs and lambs is 10 a.m. today in the swine show arena.
Piehl said
it was a typical fair with all the usual small glitches, such as electrical issues with the transformers in the campgrounds.
"But we have electrical issues every year," he said. "Camping is a big deal during fair with close to 350 campers. But the city worked well with us and we got everything cleared up."
The biggest success of the fair was its newest event, the calf and pig scramble. Organizers were hoping for 100 kids to attend, but many more arrived to chase and capture chickens, hogs, calves and sheep around the horse arena.
"So many kids arrived we had to turn a lot of them away," he said. "The only complaint we had was many couldn't get close enough to watch."
Piehl said the fair continues to look for new events.
"We want a lot of events for kids to get them more interested in the animals, farming and the fair," he said. "Once the kids are involved, the parents and rest of the family will be as well."
Another new attraction was the amusement rides provided by Burton Brothers of Indiana. The company offered a greater variety of rides a day earlier than previous years, Piehl said.
"The rides went off without a glitch, and we've had a lot of people stop in to say how good the rides are," Piehl said.
Planning for next year's fair has already begun.
"We've already started signing contracts with vendors," he said. "It's easier because they're already here, and they want to claim the same spot.
"The work doesn't end," he said. "Next year's fair is already less than a year away, and we're always looking for new and improved ideas."