Saturday, September 3rd, 2011
Despite poor beginning, crops have potential for normal yield
By Nancy Allen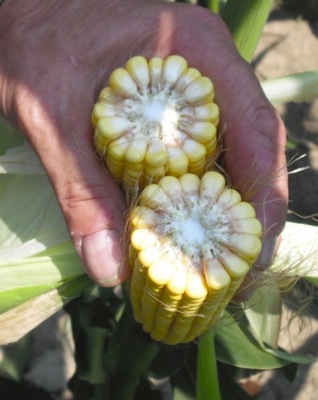 This year's late-planted crops have potential if the weather continues to cooperate, local ag officials say.
"We really need to have a good, long growing season and get some sunlight and rain and no early frost," said Mercer County OSU Extension educator Jim Hoorman this week.
Much of the county's corn and soybeans got into the ground three to four weeks late due to excessive rain that delayed planting until early June.
Areas where farmers mudded in crops resulted in poor root development made worse by hot July temperatures that baked the ground and plants. Rain came later but was spotty, he said.
"You could have a place get three or four inches and go a mile down the road and someone didn't get any at all," Hoorman said.
Recent cooler weather has helped the crops during their grain fill period, he added.
Mercer County Farm Service Agency Executive Director Chris Gibbs said despite the setbacks, crops have crept back to average.
"There are still pockets of less than desirable crops in every township," he added. "Farmers are guardedly optimistic," he said.
Areas north of state Route 29 picked up a bit more rain than the southern part of the county in recent weeks, Gibbs said. Soybeans and alfalfa especially could use a bit more water.
Frost would be catastrophic for soybeans right now, he said.
The first frost of the season typically comes within the first 10 days of October. Two years ago, it frosted in mid-September, which ruined a lot of double crop soybeans - those planted immediately after wheat comes off.
The uncertainty of this year's crop nationwide is affecting grain market prices, said John Leighty, a grain merchandiser with Trupointe cooperative in Botkins. He spoke during Thursday's agriculture breakfast meeting in Celina and was among a group who went on the annual National Pro Farmer Crop Tour in April.
Leighty said he hasn't seen this much late-planted crops in 20 years.
"Normally by this time the corn is filled out and mature and there's not going to be a whole lot of change before harvest," he said. "The questions is, is the growing season going to be long enough for it to make it?"
Leighty said the tour results indicate a smaller corn and soybean crop nationwide this year. That, combined with already tight corn and soybean supplies, made market prices jump.
At the start of the tour, Chicago Board of Trade futures prices closed at $7.25 per bushel for corn and $13.68 per bushel for soybeans. After results were released, futures prices rose to $7.67 for corn and $14.57 for soybeans.
Samples viewed on the tour showed a 147.9 bushel per acre average nationwide for corn. The average USDA trendline yield is 162 bushels per acre. Soybean samples examined showed a 41.7 bushel per acre average nationwide. The average trendline yield for soybeans is 43.4 bushels per acre.
Leighty said he saw signs of this year's spotty rains while on the tour. Near Buckland north of Wapakoneta, it's lush in areas that got rain, while areas of Miami County are bone dry.
"The word here is potential," Leighty said. "But it's not made yet."