Thursday, September 1st, 2011
Latest home values released
Mercer County's market price up; Auglaize's down
By Shelley Grieshop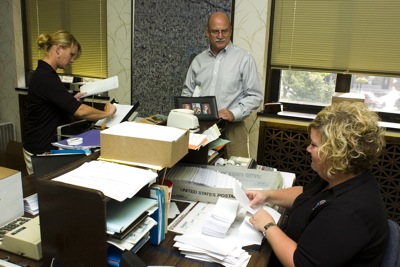 Since 2008, the official market value of homes overall rose slightly in Mercer County, dropped in Auglaize County and is debated by private real estate professionals.
The average market value of homes across Mercer County increased just .3 percent, auditor Randy Grapner said.
"I'm thrilled with that," he said, adding home values in the Dayton area were down 7 percent in comparison. "... Although our real estate time-on market has increased, on average, housing values in our county have not fallen as drastically as the media wants us to believe."
Approximately 26,000 reappraisals were performed in Mercer County.
More than 29,578 properties were appraised in Auglaize County, where home values dipped 2.4 percent from 2008 through 2010, auditor Janet Schuler said.
Data was not available in either county on how many home values increased or decreased.
The new valuations are being mailed to residents this week. They reflect the estimated value of all properties as of Jan. 1 based on a variety of factors including home sales from the last three years and input from homeowners who were solicited more than a year ago, Grapner said.
The recent reappraisals in Mercer and Auglaize counties were conducted between January and July. They are completed in each Ohio county in a staggered mode every six years; less detailed valuations occur every three years.
The reassessments help local governments determine property taxation.
The new home values for Mercer and Auglaize counties are higher than some local real estate agents and home appraisers estimate. One Realtor told the Daily Standard homes are selling for about 15 to 30 percent less than they did in 2008.
The difference in numbers may lie in the types of sales tallied by each entity.
"We look only at 'valid' home sales as required by the state," Auglaize County Auditor Janet Schuler explained.
Sales involving foreclosures, degraded properties or transactions between relatives to "unload property" without market competition are considered invalid sales and not included in the numbers crunched by county auditors, she said.
Schuler and county appraiser Bill Balthis believe the absence of those sales keeps their estimated home values higher than what others may calculate.
Mike Kuck, owner of Kuck Realty in St. Marys, said he doesn't agree with the latest assessment.
"I've not seen any increase in property values around here. I know the county auditors tell you property values are increasing but that's their job," he said.
Keeping property values higher ensures adequate tax revenues for each community, Kuck added.
The value of lakeside properties has suffered the most in recent years due to the increase in harmful blue-green algae blooms, he explained. He estimates a home value loss up to 30 percent in those areas.
The local Lake Improvement Association states that regional property values have decreased 14 percent the last two years with 6 percent attributed directly to the water quality woes at Grand Lake. The remaining percentage is blamed on the economy.
Greg Giesige, owner of Accurate Appraisal in Celina, said home values in the area have dropped at least 15 percent the past five years but admits his estimate may be clouded by the specific types of properties he appraises.
The numbers could be worse, he pointed out.
"What's helping the market in Mercer County from being worse is the low unemployment rate. It has a stabilizing influence," he said.
In July, the county was tied for the lowest unemployment rate in the state at 6.5 percent. Auglaize County was tied for the eighth-lowest rate at 8.1 percent.
Giesige also noted there hasn't been enough lakeside home sales the last few years to make an accurate estimate in those neighborhoods.
With a shaky economy and no clear-cut answers for cleaning up Grand Lake, the future of home values is anybody's guess, he said.
"Are they ready to roll off the cliff again or go up?" he asked. "Nobody really knows."

Homeowner information:
Grand Lake-area residents will soon receive letters via U.S. mail with the new estimated market value for their homes, as tabulated by auditors in Mercer and Auglaize counties.
Mercer County residents seeking information on the valuation process or with questions about their reassessments may stop by the courthouse in Celina from 8:30 a.m.-4 p.m. Sept. 19-23 and talk to members of Appraisal Research Corp., who performed the study. Individual property information will be accessible.
Residents may also contact the auditor's office at 419-586-6402. Feedback is sought to correct any errors, auditor Randy Grapner said.
Auglaize County residents with questions may call the auditor's office at 419-739-6705.
The auditors also encourage the public to visit their websites - mercercountyohio.org/auditor and auglaizeauditor.ddti.net - for detailed housing information including aerial and ground photos, a GPS mapping program, selling prices, deeds and other data.

- Shelley Grieshop