Wednesday, September 14th, 2011
St. Marys rallies to win last three games
By Robb Hemmelgarn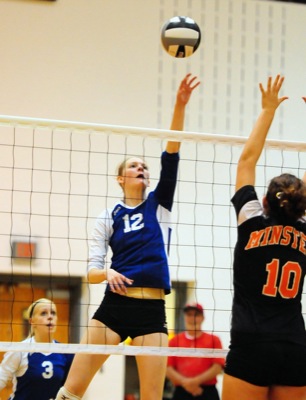 MINSTER - Last evening in Minster, the St. Marys Roughriders' volleyball team was left for dead.
Down two games to none and trailing by four points late in game three to the Minster Wildcats, it looked as if Tricia Rosenbeck's squad was prepared to drop their second match in four days.
Suddenly something clicked.
Powered by a late-game overtime rally in game three, the Roughriders also battled back in games four and five to capture the victory and improve to 8-3 at the midway point of the season.
"We had a heartbreaking five-game loss to Elida last week and I wasn't sure how the girls were going to respond to that," explained a noticeably relieved Rosenbeck. "In those first two games tonight it was obvious we were not responding well at all. We fought back that third game though, and I felt in the fourth and fifth games that we started playing how we are capable. I am just so happy to get out of here with a win against a really good Minster team."
In the opener, the Wildcats secured a 10-9 advantage after several lead shifts and never looked back. They extended their advantage to as many as six points as the Roughriders never pulled closer than two points in Minster's 25-22 victory.
A kill by Lexi Roop to begin the second game gave the Roughriders a 1-0 lead but Minster jumped back in front a few moments later when a block by junior Claire McGowan dropped on St. Marys' side of the floor. From there, Minster maintained a comfortable cushion throughout the 25-22 win.
"We won those first two games and we kept the excitement heading into the third game, but I think we let our own errors kill our momentum," commented Minster's head coach Cami Lefeld. "After we won, I reminded the girls that it wasn't over yet. St. Marys is a very good team and that we needed to keep doing what we were doing without hurting ourselves."
Game three began with another Minster lead early on when a quick tip by setter Allison Jutte fell to the floor. The Wildcats stayed in front for the majority of the game despite St. Marys' creeping to within a point on several occasions.
A hitting error late in the contest by Roop awarded Minster a 19-15 lead and it was seemingly a matter of time before the battle was over. The Roughriders methodically pulled themselves closer and closer before a floor-shaking slam by Marie Bertke knotted the contest at 22-22.
From there, the two teams traded blows back and forth until St. Marys pulled ahead in the end thanks to a pair of Wildcats' hitting miscues.
"In the first two games we were really struggling with blocking and that played a big role in how we performed," commented Rosenbeck. "They were continually hitting around our blocks and our defense had nowhere to go. Minster is a very good team and it just goes to prove we need to be ready to play every night."
With the momentum tipping in the visitor's favor, both teams exchanged seven lead changes throughout the fourth contest. With the game tangled at 18 points, another kill by Roop put her team ahead for good as they knotted the match at two games each with the 25-22 victory.
In the decisive game five Minster charged in front 6-1 and forced the Roughriders to call timeout. Following the break in action, Rosenbeck's girls slowly clawed their way back into it, tying the fight at 12-12. They took the lead for good when senior Jenny Brown's tip found an open spot on Minster's side of the net. Wildcats' hitting errors on the next two points gave St. Marys the 15-12 victory and secured the improbable comeback.
"Despite the outcome, the girls played hands-down the best that we have so far all season," complimented Lefeld. "We really put things together in the first two games and were able to win. We also had them where we wanted them in the each of the other three games, but we let our errors dictate how they turned out. We missed more serves tonight than we have all season and that is frustrating because that is something we normally pride ourselves on and something that has to improve."
The Roughriders are back in action on Thursday when they travel to Lima Bath while the Wildcats (4-6) are also in action tomorrow when the Versailles Tigers come to town.