Saturday, September 17th, 2011
Miss Ohio pedaling to raise funds for Children's Miracle Network Hospitals
By William Kincaid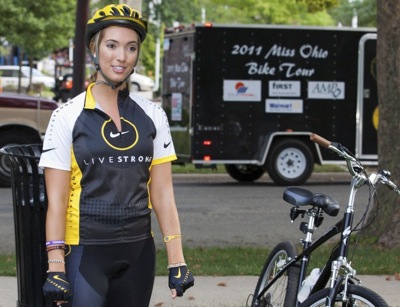 CELINA - Miss Ohio 2011 Ellen Bryan didn't consider herself a cyclist until Aug. 29, the day she began an 850-mile trip throughout Ohio to raise money for Children's Miracle Network Hospitals.
With no prior training or conditioning, the Celina native and 2011 graduate of Ball State University started her bicycling tour in Columbus. She rode 52 miles that first day, ending up at Washington Court House.
On Friday - day 19 of the tour - Bryan was in Uhrichsville. She was making stops at an elementary school and a high school football game.
While taking a break, Bryan said she rides mostly on state roads and has received lots of honks - some in support, others in annoyance. She has stopped at schools, hospitals and civic organizations.
Friends and family - including her father Kent Bryan, the planning and community development director of Celina - are accompanying her on the trek. She also is blogging about the tour, which ends in Columbus in one week.
In one of her first blogs, she wrote, "Dad was my riding partner this morning, so of course we played our favorite game of movie trivia on the way."
Bryan, riding a Trek road bike donated by the Bike Hub of Celina, said she feels like she's been through every weather pattern.
"I was going to sugar coat it, but there's no way to get around it," Bryan wrote on Sept. 8 about rides to Defiance and Napoleon. "Wednesday's ride was miserable. It was raining the entire time, with 15 mph winds in my face and a chilly 62 degree high. And to top it off, it was first ride alone."
Bryan wrote that she put the experience into perspective by the asking herself if she would rather be sitting in hospital.
Bryan's friend Kasey Howell, who biked part of the tour with her, said she has received lots of local support.
"Celina High School student council has offered to help with a donation from the proceeds of their current fundraiser," Howell said. "To help Ellen, we have also decided to get others involved in the fundraising."
Donations pledged to her fundraiser on wheels will benefit the Children's Miracle Network Hospitals, an organization she began volunteering for in September 2009 after being crowned Miss Miami Valley.
"They've (the children) dealt with more in the first few years of their life than some people deal with their entire life," Bryan wrote on her blog. "And whenever I talk to the children, they are so positive - and always the first people to help someone ... this is why I am making the commitment to ride."
Bryan's tour itinerary and daily blog can be viewed at
www.missohiobiketour.com
. Donations also can be made on the site.