Monday, September 19th, 2011
Mercer fairgrounds transformed into 'Scooterville'
Vintage vehicles draw long-time riders, campers, nostalgia buffs
By Shelley Grieshop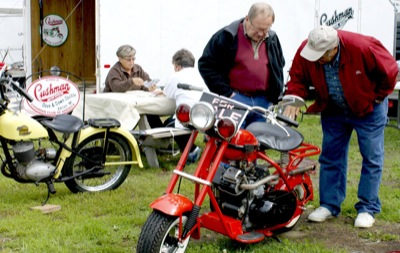 CELINA - A band of grey-haired men clutched coffee mugs early Friday morning while surveying dozens of vintage scooters at the Mercer County Fairgrounds.
The group shared stories of their long-time fascination with the motorized two- and three-wheelers during the first-ever Buckeye Vintage Scooter Meet.
"Most of us rode scooters as kids," said Linus Jutte of Celina, who organized the event. "This is like a 'swap shop.' It's great to see all the different kinds people brought in."
About 50 campers arrived with dozens of scooters in tow for the debut of the three-day rally. The collectors and their classics - Salsburys, Vespas, Mustangs, Cushmans and other models - periodically ventured out to area sites such as the bike museum in New Bremen and Harley-Davidson shop in Mendon.
Scooters typically travel 50 to 80 mph but are not permitted on interstates in Ohio. By law, operators must have a motorcycle license or endorsement and their vehicle must be registered, titled and insured.
Many of the scooters parked along the winding path of the fairgrounds were built in the late '30s. Some of the models and their familiar step-through chassis were discontinued by 1948.
"I have like 30 of them," Jutte said with an embarrassing smile. "My dad bought me my first one when I was 13."
Jerry Ellis brought a prized red and white Salsbury to the event from his home in Columbus. It is rare and carries a price tag of more than $10,000. He confessed to owning five of the vintage scooters.
"They're like pretzels, you can't have just one," he said grinning. "It's like a disease."
Ellis, a retired architect, said he rode a scooter to school every day as a child and used it to deliver newspapers for the Canton Repository.
"All the women liked them," he said with a laugh.
Half the comments written in his high school yearbook from classmates make reference to his scooter, he said. "It's who I was," he added.
Finding repair parts often turns owners into "pickers." They search old barns and cellars for discarded scooters.
Nevin Swigart of Englewood is their go-to man for modifications and fixes for poor-performing vehicles, they said.
"He repairs engines, brakes ... whatever, he can fix it," Ellis said.
Swigart created an electric starter to replace the original kick-start on older models. It is an invention the retired men truly appreciate.
"Who's got good knees?" Ellis asked as others smiled.
Some of the scooters on display resembled antique bicycles with platforms to rest feet. Others, such as Bob Benner's 1959 Cushman Eagle, appeared at first glance to be a motorcycle.
"I bought this about 35 years ago," the Tiffin resident said.
He and his wife, Donna, attend many of the scooter club events in Ohio and Indiana. But only Bob rides the shiny, black Eagle that totes a dangling pair of fuzzy, red dice near the handlebars.
"I ride around town. Sometimes I take my grandson in the sidecar," he said.
Just like Ellis, he harbors good memories of scooter cruising as a kid.
"I liked what I had when I was 15 years old and I still like it today," Benner said.
Not all the scooters at the fairgrounds were factory made. Glen Allen of Portage, Ind., built a patriotic version with his own hands.
"I wanted to put something together to ride around in at these shows," he said.
He and his friend, Keith Sharpe of Valparaiso, Ind., often sneak the scooter into parades, they confessed.
Allen estimates he's invested $150 in his beloved machine, which includes a 1980 Briggs & Stratton engine, a back axle from a Sears lawn tractor and a suede seat removed from a car.
"I love anything with a wheel," he said. "This is the most fun I've had in my life."