Tuesday, September 20th, 2011
Roughriders shut out Grand Lake rivals
By Gary R. Rasberry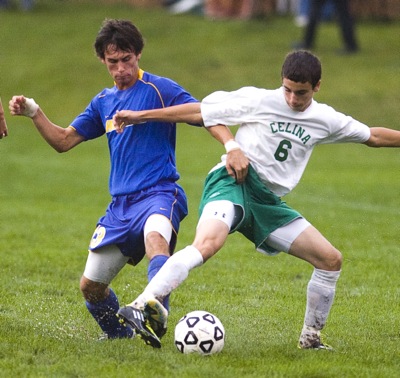 CELINA - The parents of St. Marys' boys soccer players aren't too unhappy to be washing the mud from their sons' uniforms following Monday's matchup against rival Celina.
The Roughriders fought through the wet weather for a pair of first-half goals and then added an insurance goal early in the second half as St. Marys knocked off Celina 3-0 in Western Buckeye League action at Celina Soccer Stadium.
St. Marys is now 7-2 overall and a game back of the WBL's leaders with a 3-1 mark in league play. The Bulldogs are 5-4-1 overall (2-2 WBL) following the loss.
"(Celina's) a fine team. They played hard right to the bitter end," said St. Marys' coach Dave Ring. "We've gotten back to our passing. We're back to what we were doing at the beginning of the year."
The rain through the day and during the junior varsity match made for a soggy surface of action with several spots on the field becoming mini-ponds. The soggy field and the defensive-minded play by both teams kept the game scoreless through the first 20 minutes of action.
Finally, with nearly 18 minutes to go in the first half, St. Marys' Zach Nelson corralled a rebound and kicked it back past Celina's Lucas Warner for a goal to put the Roughriders up 1-0.
Nearly seven minutes later, Zach Wilker fired a pass in front of the goal to Austin Slayton, who put it past Warner to make it 2-0 at halftime.
"The opportunities they had, they capitalized," said Celina's coach Ryan Jenkins. "They didn't have many (five shots on the night), but what they had, they put in the back of the net."
"We came in and I told them no matter how bad the field was, we were going to stick to our possession idea," said Ring. "And it worked."
Celina had plenty of chances to get on the scoreboard as the Bulldogs attempted 11 shots on goal with St. Marys' Luke Leffel needing to make six saves.
"We had chances," said Jenkins. "We they had chances, they put them in. When we had chances, we didn't put them in the back of the net. Their defense played well. Their keeper played well."
St. Marys wrapped up the scoring five minutes into the second half as Brennan Brown got a breakaway and registered the goal.
"St. Marys is a good team," said Jenkins. "They played hard. They played well. Our guys played hard, we just didn't play well tonight."
Both teams are back in league action on Thursday as St. Marys heads home to face Defiance while Celina makes the northern trek to Van Wert.