Wednesday, September 21st, 2011
St. Henry sweeps Marion Local
Top-ranked Redskins top third-ranked Flyers
By Ryan Hines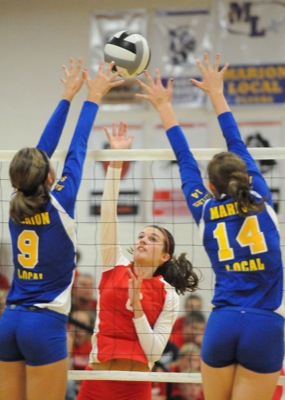 MARIA STEIN - The St. Henry volleyball team continues to display the reason why the Ohio High School Volleyball Coaches Association has the Redskins as the number-one ranked team in the state for Division IV.
Top-ranked St. Henry traveled to Maria Stein on Tuesday to face third-ranked Marion Local and the Redskins earned a surprising three-game sweep - 26-24, 25-20 and 25-15 - over the Flyers in Midwest Athletic Conference action.
St. Henry has now beaten D-IV's second- and third-ranked teams in the last seven days (Lehman and Marion Local) to improve to 13-1 (4-0 MAC) on the season.
"We haven't beaten them since 2006 and we were playing them on the road, so I wanted to see what my team was made of tonight," said St. Henry's head coach Diana Kramer. "Our girls showed me a lot and everyone did her part to help in the win."
"This was a great win for us because we haven't beaten them for a long time and we showed that we are the type of team that we have by beating a very good team," said St. Henry's senior Abby Brunswick. "It just feels great to get out of here with a win."
If St. Henry was nervous for its showdown against Marion Local, it didn't show as the Redskins charged in front 9-2 in the first game. Brunswick, a part-time setter for the Redskins, delivered assists to Ashley Heitkamp, Michelle Bruns and Katie Hoyng to highlight the early run.
Marion Local methodically battled back into contention in game one and tied the game at 24-24 after an ace by Claire Heitkamp. A Hoyng kill and a stuff block by Kenzie Kleinhenz capped a 26-24 win for the Redskins.
Strong play by Marion Local's Margaret Wuebker got the Flyers off to a strong start in game two as the 6-1 senior had four kills and two stuff blocks to give the hosts a 7-2 lead.
St. Henry rallied to tie the game at 12-12 but Marion Local's Gina Kramer gave the Flyers an 18-14 advantage following a pair of powerful kills. The Redskins then asserted themselves and won 11 of the next 13 points for the come-from-behind victory in game two. Taylor Clune had two aces and Heitkamp added a pair of kills to highlight the Redskins' comeback.
Marion Local jumped in front 2-1 in the third game but it was all St. Henry from that point on. Mistakes began to pile up for Marion Local and St. Henry was nearly flawless at the net on both offense and defense.
With the score tied at 9-9, St. Henry's Gina Kramer served up three straight points to put the Redskins on top 13-9. The Redskins pushed their lead to as many as 10 points and the Flyers never got closer than six points.
"We made far too many mistakes tonight to be able to go out and beat a great team like St. Henry," said Steininger.
St. Henry returns to action on Thursday with a home match against New Bremen while Marion Local hits the road to face MAC co-leader Parkway (13-2, 4-0 MAC).