Thursday, September 22nd, 2011
33 years old but still new
St. Marys dealer displays newly uncovered Corvette
By Betty Lawrence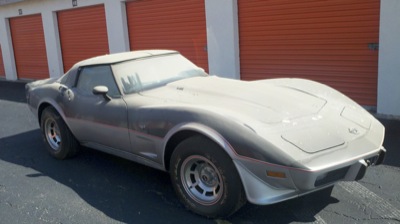 ST. MARYS - She's in pristine condition from headlights to taillights, despite a thick blanket of dust that has built up over 30 years.
The 1978 Indy 500 Pace Car Corvette sitting in the showroom at Bud's Chevy Buick & Corvette Center in St. Marys was uncovered last week from a barn in Detroit. She's not been driven in 33 years and has logged only 13 miles.
The interior still has that new car smell and plastic from the factory covers the bucket seats and steering wheel.
"Everything is original, right down to the dealer's key ring. It is a brand new 1978 Corvette," said Tom Hendricks, Bud's Corvette salesman.
Bud's Chevy owner Bud Schoenleben of Celina said the previous owner, a friend of his, bought the car in '78 as an investment and never drove it.
"In 1995 he sold his house, moved into a high-rise apartment and had no place to put the car, so he put it in a Store and Lock. He locked the door and walked away from it, never looking at it again for 16 years," Schoenleben said. "I hadn't talked to him in 25 years, and a few weeks ago he called out of the blue and said he needed to get rid of this car, that he could use the money."
Schoenleben said he was leery at first, but eventually decided to drive his rollback truck to Detroit to check out the vehicle.
The collectible was buried under boxes and had never been covered. However, Schoenleben could see the car was undamaged.
"So, I pumped up the original tires, pulled it out of the building and brought it home," Schoenleben said.
A gas tank half full of 33-year-old gas didn't harm the vehicle. In fact, the only thing that had to be changed was a dead battery.
"It's incredible. The car started right up," he said. "The engine was not frozen up and all the seals never got a chance to rust and go bad."
A limited number - 6,502 - of the 1978 Indy Pace Car Corvette replicas were made, one for every dealer in the country, Schoenleben said. The limited edition black and silver T-top with 350 V-8 engine was part of the 25th anniversary year of the Corvette.
The old but new ride will not be in Bud's St. Marys showroom for long. Hendricks recently sold the "barn find" to a collector in Massachusetts.
"He said not to touch the dust, that it adds to the value," Hendricks said. "He intends to keep it just as it is."
The public is invited to view the car before it travels to its new owner.
"The new owner is sending someone with a trailer to take it to Massachusetts, but we don't know when yet," Hendricks said. "In the meantime, we would love everyone to stop by and see this incredible find."
The '78 Corvette has special meaning to Schoenleben.
"In 1978 I bought (a Corvette) from Denny Franks, and it was identical to the one that guy had in storage. I ended up buying and selling Vettes from then on, and that's what actually got me in the business," he said. "I have bought and sold 60 of these 1978 pace cars over the years."