Wednesday, September 7th, 2011
Recovering from recovery
Men who worked 257 days at Ground Zero share story, thoughts 10 years after event
By William Kincaid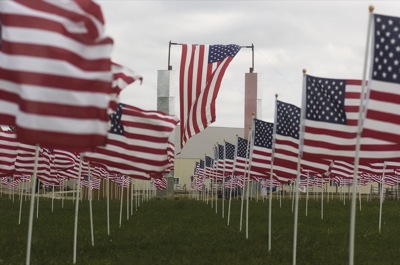 BRYANT, Ind. - Two New York City firefighters who spent nine-and-a-half months recovering the dead from the rubble at Ground Zero value the little things in life.
The child who wished his father would have tickled him more before responding to and later dying at the site of the World Trade Center. The cup of hot coffee given to Ground Zero response team members. Watching human interactions in a subway just to lift one's spirit.
These memories are entwined with the indelible images of carnage and horror from Sept. 11, 2001, and the months afterward for Mike Balone and Robert Barrett.
"We only have each other for a short period of time," Barrett said.
Balone and Barrett spoke Tuesday night at Bear Creek Farms, site of the Midwest America Healing Field. Speakers, events and entertainment will be presented each day through Sunday - the 10-year anniversary of the terrorist attack on America.
The two men from Brooklyn responded to the World Trade Center after the two towers fell. They spent the next 257 consecutive days recovering the deceased from dismantled steel, powdered glass and dozens of feet of debris.
"More than half of our bosses were dead," Barrett said, explaining there was no master plan or time to feel sorry for themselves.
"We just said, 'where do we start?' " Balone said.
The two men, whose bodies absorbed glass, metal, ink, mercury and other hazardous materials over nine months, said it was their mission to recover as many bodies as possible and to treat them with respect.
Once a body was discovered, the cacophony of machines and tools stopped. All responders followed the unwritten code of solemn silence.
"You could hear a pin drop for every recovery," Balone said.
Balone and Barrett said the debris removal and body reclamation process was a self-effacing, collective endeavor.
"There was no I. There was no individual achievement," Balone said.
Each morning, people of all races, religions and ethnicities held hands, prayed and pledged allegiance to the flag at the site of a giant cross.
"That ... five minutes of prayer and patriotism carried us through (hours of work)," Balone said.
Balone described the effort as an eight-cylinder machine powered by 3,500 workers each shift with the primary goal of finding every body.
"Was God down there? Absolutely," he said, pointing out no snow fell for nine months and none of the workers were hurt.
However, some died from inhalation of toxins, said Balone, who has only 12 percent lung capacity and suffers from chronic respiratory problems and blood cancer.
Balone told several stories, such as finding a firetruck buried 60 feet below street level. The force of the collapsing tower drove the vehicle underground.
Instead of using an excavator to remove the truck, which could have rendered it unidentifiable, responders spent 25 hours in the pouring rain digging the truck out by hand. Seven doors from the truck were cut out and given to the widows of seven deceased firefighters. As silly as it seems, responders were desperate to give the widows something, Barrett said.
A day after the six-month anniversary of Sept. 11, the responders found the deceased crew members of the truck.
Balone and Barrett also underscored the emotional strain of Ground Zero workers.
One night at 3 a.m., Balone said he received a call about one of the responders - in full uniform - digging up his backyard. The man was unable to stop himself from the body reclamation process even though the work was completed.
"All of us went back there and dug up this guy's backyard," Balone said.
Once his yard and trees were dug up, the grieving man noted no bodies were to be found. Balone told him he wasn't going to find any. The man cried for an hour, but eventually snapped out of his pain and said he needed to eat a hamburger, Balone said.
Both Balone and Barrett also talked about losing hundreds of fellow firefighters and friends. At one point, Barrett said he was attending eight funerals a day.
Balone said he couldn't attend all of the funerals so he eventually stopped going to any of them.
The two men recently spoke at the New York State Fair and said they were disappointed to see people walk by indifferently when the national anthem was played. Ten years ago, flags were proudly displayed on cars and outside homes everywhere, they said.
"And a year after that, it just went away ... why?" Balone said.
Balone and Barrett said they are committed to telling the Sept. 11 story. The two men wrote a book, which is available for purchase at the Healing Field. They speak again at 6 tonight and 9 a.m. Thursday at the Healing Field.

Counties plan Sept. 11 ceremonies:
Mercer County
A parade and 9/11 memorial service with numerous speakers and events will take place Sunday in Celina.
The event begins with a parade at 1:30 p.m. starting at the Mercer County Courthouse and ending at Lake Shore Park. Numerous fire, police and emergency medical service (EMS) personnel, as well as color guard units, will pass under a large American flag at the park.
Celina and St. Henry high school bands will play patriotic music at the park, and local Scout groups will give flags to attendees.
The service will start at approximately 2 p.m. with the singing of the National Anthem by 2009 Miss Ohio Erica Gelhaus of St. Henry. Gelhaus also will sing "God Bless America" and area color guards will perform. Mauri Cron will serve as emcee, the Rev. Doug Meyer will provide invocation and Celina Mayor Sharon LaRue will welcome the crowd.
Poems will be read by area officers, fire, EMS and citizens and a variety of music will be played. Keynote speaker is Jerry Winhoven, who was in one of the World Trade Center's Twin Towers when it was struck by a plane 10 years ago.
County 911 coordinator Monte Diegel will explain the "Two Minutes of Silence" paintings by artist Peter O'Neill, and memorial wreaths and other items will be placed in memory of the victims.
Two minutes of silence will be observed followed by a helicopter flyover tribute, a 21-gun salute and taps.
The event is expected to last two hours.
Limited bleacher seating will be available; the public is advised to bring lawn chairs.

Auglaize County
The Wapakoneta Fire Department is hosting a 9/11 memorial service beginning at 6:30 p.m. Sunday at the north lawn of the fire station.
Those attending are asked to bring lawn chairs.
Fire Chief Kendall Krites and Wapakoneta Mayor Rodney Metz, a county commissioner and police department representative will speak.
Following a moment of prayer will be a 21-gun salute by the VFW Color Guard.