Wednesday, September 7th, 2011
Bulldogs' tennis blanks rival Roughriders
By Gary R. Rasberry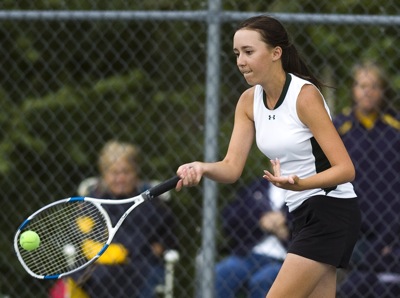 ST. MARYS - On a day more suited for football than tennis, Celina traveled to St. Marys in a battle of Western Buckeye League unbeatens.
The Roughriders were competitive in most of the first sets of matches but the Bulldogs came away with a 5-0 sweep to stay on top of the WBL standings at 4-0 while St. Marys drops to 4-1.
"St. Marys really came out strong in the first sets," said Celina's coach Jan Morrison. "They had the early lead in the (first) doubles and third singles. It was tight everywhere in the first sets. I think we adjusted to the wind a little in the second sets and had a little momentum going in. We were a little more comfortable in the second set, but St. Marys is a good team. They gave us a scare early on."
In all but the second doubles match, the first set was a back-and-forth battle.
In first singles, Celina's Samantha Manci dueled with St. Marys' Mariah Krugh with Manci coming away with a 7-5 win in the first game. Manci had a bit of an easier time in the second set, winning 6-3 to take the match.
Second singles went the same way as Celina's Brianna Beougher and St. Marys' Alex Spencer battled in the opener. Beougher fought through and won the first set 6-4 before making it 2-0 in favor of Celina with a 6-1 victory in the second set.
The tightest match of the day came in third singles as Celina's Miranda Werling and St. Marys' Katie Peterson needed two tiebreakers to decide a winner. The pair were tied at 6-all in the first set before Werling won the tiebreaker 13-11. The final set was a bit easier, as Werling won the tiebreak 7-2 for the straight 7-6, 7-6 win.
"That was a real close match tonight," said Morrison of third singles. "First singles, too. Krugh came back. We had the early lead there, but she came back to take it to 5-7."
Doubles were a little easier for the Bulldogs as Audra Manci and Emily Zender defeated the Roughriders' duo of Allie Zimmerman and Ariel Dodson 6-4, 6-0. Celina's second doubles team of Katie Kerr and Allison Laux was the quickest match and the Bulldogs' duo beat St. Marys' Emily Brown and Katie Klingshirn 6-0, 6-1.
"I was proud of how the girls came out to play and came out firing," said St. Marys' coach Bill Ruane. "They took it to them in close first sets. In the second sets, they just came back at us. That's their experience. They're the defending WBL champions and it showed. I was proud how the girls played."
Celina took five of the six junior varsity doubles matches played. Andrea Martinez and Leah Rose, Emily Nighswander and Elise Elston, Leslie Gudorf and Kaylee Gardner and Janki Patel and Leah Zuecher each picked up wins.
Celina will look to stay perfect in WBL play on Thursday hosting Van Wert. St. Marys travels to Defiance on Thursday.