Thursday, October 6th, 2011
Author shares story of hard life
By Margie Wuebker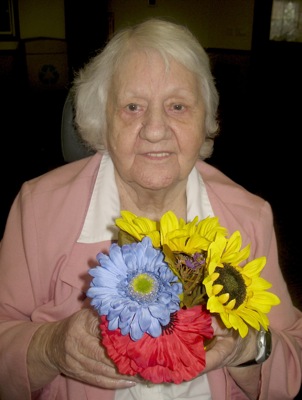 CELINA - Audrey Richards Lowery, a resident of Mackinaw Retirement Community, has joined the ranks of authors without writing a single sentence,
Lowery, who is legally blind as a result of macular degeneration, recorded the manuscript for "Saturday's Daughter" and a friend, Jean Williams of Crawfordsville, Ind., transcribed the 176-page autobiography.
One of 10 children born into a coal mining family in Harlan County, Ky., Lowery said she had no trouble coming up with the title of her book published in July by AuthorHouse.
"There's a song I learned as a kid about Monday's child being fair of face," the 86-year-old woman said with a laugh. "I didn't luck out when it comes to being nice to look at, but the song goes on to say Saturday's child works hard for a living. That pretty well sums up the story of my life."
Born in the turbulent 1920s, she grew up taking care of her siblings - the three older ones as well as the six younger ones. She began doing housework for a lady named Ma Kennedy at the age of 11 after being forced to quit school in the sixth grade.
"She taught me how to clean house the right way, and each week I turned over the pay to my daddy," Lowery said. "We didn't have much money, and mommy kept having more babies."
The woman provided more than a paycheck, often sending home a large pot of soup and a box of saltine crackers. Siblings quickly gathered around and "ate the kettle dry," she said, especially when it contained pinto bean soup with dumplings and an accompanying pan of cornbread.
"We didn't have much money so everything was appreciated from food to hand-me-down clothes," Lowery said. "Our life resembled that of the Walton family, only we were a whole lot poorer."
As a teenager, Lowery began spending summers at her grandmother's home - traveling up and down the hills, through the hollers and then aboard a noisy bus.
"Grandma cooked for a doctor, and I made money laundering aprons for 14 men at the meat processing plant," she recalled. "There was no running water in the house, so I carried it in buckets from the coal mine over yonder."
She soaked the blood-stained aprons overnight in cold water before laundering them and hanging the wet garments to dry outside. The final step involved pressing them with heated irons before neatly folding and delivering the stack. She earned a dime per apron.
"Grandma bought me some pretty fabric and cigarettes with some of the money," Lowery said. "Lordy, my daddy and mommy would have killed me if they found out I was smoking."
It was during one of the summers away that an older brother moved the family to his home. She returned to learn she did not have a place in the house.
"Daddy told me he was giving me to a young man named Scott who had worked in the mines but was leaving soon for the army," she said. "I was 17, and I had never been with a man. We got married by a justice of the peace, and Scott left two weeks later. The tears I shed at his departure were not tears of sorrow."
Lowery soon learned of the reason for her dad's quick action. The military paid wives $50 per month, and she had to turn over part of the money in exchange for room and board.
At the age of 20, she gave birth to twin sons but the marriage quickly dissolved amid drinking binges and beatings. The young mother worked at any available job - from dry cleaning plant worker to soda jerk - in order to keep a roof over their heads.
Lowery married two more times, both husbands preceding her in death. She lived in Tennessee, Indiana and Celina.
"I grew up poor and I spent my life working," she said. "I am proud to tell folks I never made a food stamp dinner or dressed my boys in second-hand clothes or homemade shoes. I wanted better for them than I had as a child."
Lowery dictated the book at the urging of Williams. The sensitive recording machine picked up the tiniest sounds so she worked between the hours of midnight and 6 a.m. when fewer people were out and about.
"It took me most of two years until I got my story talked out," she said. "And now I am waiting for the fruit of my labor to arrive. It's a lot like laboring to give birth."
Copies of the book will be available from Lowery in coming weeks or they can be ordered from
Amazon.com
or
AuthorHouse.com
.