Friday, October 7th, 2011
Roughriders knock Titans from top spot
By Mark Ruschau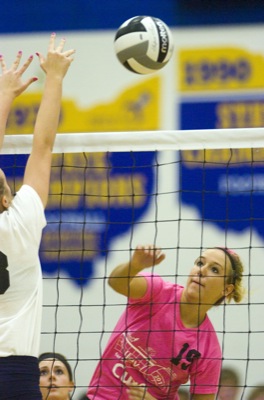 ST. MARYS - The St. Marys Roughriders completed a huge week of volleyball as they posted two must-wins to stay alive in the Western Buckeye League race.
On Thursday night, St. Marys defeated the Ottawa-Glandorf Titans 25-22, 25-18 and 25-15 on senior night at Murotech Court, just a couple of days after the Roughriders knocked off rival Wapakoneta in four games.
The Roughriders are now 5-2 in the WBL and in a three-way tie for second place in conference (with Bath and Ottawa-Glandorf), one game behind Celina, with two league matches left to play. Ottawa-Glandorf falls to 5-2 and 12-7.
The Roughriders end the season with road matches at Van Wert and Shawnee while Celina finishes the season with a road contest at Elida and then home against Bath. Ottawa-Glandorf (12-7, 5-2 WBL) closes with home matches against Bath and Van Wert.
"This was a huge week for us," said St. Marys' coach Tricia Rosenbeck. "We beat Wapak on Tuesday and we beat O-G tonight, and with tournament draw on Sunday, I don't think the girls really know how big a week this was. Obviously, we will be watching Celina, but we really want to play strong the last two matches and get ready for tournament."
It was appropriate that on senior night it was the seniors who stepped up their games for Rosenbeck and allowed the Roughriders to stitch together the win.
St. Marys was solid on defense with the play of senior libero Cierra Anderson proving to be key. The Roughriders' defense held the powerful Ottawa-Glandorf hitting attack to just 28 kills, including just 13 in the last two games.
"Oh yeah we played well defensively tonight," said Rosenbeck. "With Cierra Anderson back there in the middle back, she basically plays the whole back line for us and she does an unbelievable job. She dug everything back there. Cierra is an awesome player and I am lucky to have her as libero."
St. Marys also did a good job of siding out as the Titans' service streaks of more than two points occured just twice in the match.
The Roughriders had a balanced attack on offense as seven different players recorded at least two kills. St. Marys' senior Jenny Brown led the way with a game-high 19 kills and added two blocks. Fellow senior Kiley Schamp chipped in seven kills and senior Maria Bertke added five kills.
"Our passing definitely picked up after our first game," said Rosenbeck. "We spread our sets. All of our hitters played well tonight."
Things started rough for the home team as they fell behind 6-1 in the first game. St. Marys slowly crawled back into the game before tying things at 13-13 on a kill by Brown. St. Marys took the lead for good at 17-13, aided by a pair of Brown kills.
"We really started out slow tonight," said Rosenbeck. "Our passing was struggling in the beginning and after that we picked up our play and I thought this was the best overall match that we played this season."
St. Marys fell behind early again in game two at 5-1 before rallying to tie things at 6-6 following a service winner by Haley Hicks. After ties at seven, eight and nine, the Titans took advantage of four St. Marys' errors to take their last lead of the match 14-11.
St. Marys then retook control of the game as they went on a 14-4 run to close the game. Bertke and Lexi Roop keyed the spurt with three kills each. Ottawa-Glandorf also added to its own demise by giving St. Marys six points on errors.
The Roughriders totally dominated the third game as they scored 10 of the first 13 points to take a 10-3 advantage. The Titans came no closer than four the rest of the way. Jenny Brown had seven kills, a block and a service winner in the game.