Wednesday, October 12th, 2011
Wildcats take win over Cardinals
By Robb Hemmelgarn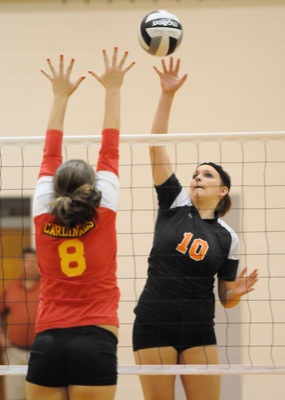 MINSTER - For the final time in their high school volleyball careers, Minster seniors Dana Stucke, Jayden Hahn, Kaitlyn Lehmkuhl, and Sami and Kassi Brown, lined up on the court in front of their home crowd at Minster Middle School.
Powered by a dominating performance in the first two games, the Wildcats fought off the New Bremen Cardinals in the end to send their rivals home with a four-game loss, 25-10, 25-21, 23-25, and 29-27.
"Our seniors have played a very big part in the success we have enjoyed so far this season and it is sad to see them go," exclaimed first-year head coach Cami Lefeld. "When I arrived here, I wasn't certain how they would respond since they were used to a different system. It has been a great experience though, and tonight they all started and played in all four games to help us to pick up the win."
The Wildcats seized the 3-2 lead in the initial game and thanks to timely serving by Stucke, moved ahead 6-3 and never bothered to look back. The home team thrived in all aspects of the game, while taking advantage of several Cardinal defensive lapses to secure the 25-10 win.
"In our last couple of games, we fought hard only to lose in five games, and it seems to have affected us," New Bremen's head coach Theresa Jenkins explained. "Our first game tonight we came out and it seemed like we just panicked. I have no idea where our consistency has gone, but right now is not great timing to lose it like we did tonight."
While the Cardinals didn't know what hit them in game one, they seemingly turned things on in the second contest as they leapt out to a 6-1 lead. The Wildcats methodically pulled back into it and knotted things at nine, but a kill by New Bremen sophomore Julie Brown put her team back in charge by a point. Undaunted, the Wildcats slid in front a few moments later after a block by junior Madeleine Eiting crashed into the open floor on the other side of the net. From there, freshman Regan Hahn chalked up four more points to push her team in front, 18-14. The Wildcats constructed their advantage to as many as six points near the end of the game, before eventually rolling to the 25-21 victory.
"Even though we pulled out a win in the second game, I thought our focus was off compared the first game," commented Lefeld. "We need to work harder on keeping our focus from game to game, especially with tournament approaching."
Gripping their two-game edge, the Wildcats were prepared to bury the Cardinals when all of a sudden, Jenkins' girls sprinted to a 7-1 advantage in game three. Fueled by strong net play, the Wildcats took advantage of several moments of inconsistency in New Bremen's defense and clawed to within a point at 10-9. The Cardinals didn't flinch though, bulling back in front by nine points on two separate occasions. Staring down the barrel of a 22-14 deficit, Minster's fate seemed inevitable, but not before junior Alisha Monnin tried to come to the rescue. Her turn at the service line pulled the Wildcats to within a point, but the Cardinals hurriedly slammed the door shut before posting the 25-23 victory.
"I felt that we really showed what we are capable of doing on the floor in that third game," remarked Jenkins. "We got ahead on a couple of occasions and looked very strong, but then we did our roller coaster again and let them climb back in it. That is something that we need to get away from, but we have to develop mental toughness to prevent that from happening."
With Minster trying to put an end to things, and the Cardinals fighting for a fifth contest, game four was a defensive gem. With five lead-changes throughout, neither team was able to build more than a three-point lead, as much of the battle swung within a point in either direction. With the score knotted at 24 points, the teams continued to trade punches as the contest spilled into overtime. Trailing 28-27, the Cardinals' final hit was met by the wall of Madeleine Eiting and Sami Brown, as the ball ricocheted back over to an empty space on New Bremen's side of the floor, allowing the Wildcats to capture the 29-27 victory.
"In the end, we seemed to be doing too much and were playing not to lose," Lefeld pointed out. "We made a few errors that we shouldn't have made, but finally in the end we started to feed off of their mistakes and played to win."
With the victory, the Wildcats improved to 10-8 overall and 3-5 in the Midwest Athletic Conference, and will travel to Coldwater on Thursday, while the Cardinals (7-14, 1-7), are also back in action Thursday when they host the Versailles Tigers.