Wednesday, October 19th, 2011
Bulldogs bury Indians in three
Division II Sectional Volleyball at Lima Senior
By Ryan Hines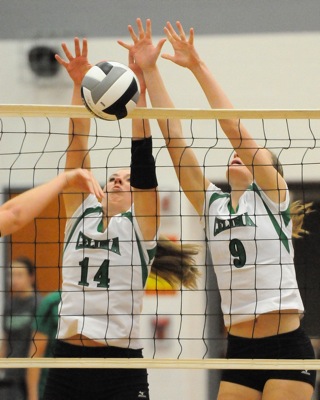 LIMA - The Celina volleyball team had their most dominant performance of the year during the postseason opener on Tuesday night at Lima Senior High School.
Top-seeded Celina led wire-to-wire and cruised to a 25-6, 25-7 and 25-7 victory over Shawnee in Division II sectional semifinal action as the Indians won just 20 points in the three-game sweep. It's the second time that Celina has blown out Shawnee in the last two weeks after pulling off a 25-14, 25-18 and 25-12 win on Oct. 4.
"I didn't think that we played very well when we beat them the first time a couple of weeks ago, but I thought we played much better tonight. It was a good way to start the postseason," said Celina's head coach Carolyn Dammeyer. "We came out focused from the start and focused on making sure we were doing what was necessary on our end to win the game."
Celina (17-6) indeed came out strong as senior setter Angie Fisher had a pair of aces to give the Bulldogs a 2-0 advantage in game one. Celina pushed its lead to 8-5 before the Bulldogs buried the Indians behind the service game of senior Anna Stammen.
Stammen had three aces during a 16-point streak that ended at game point with the Bulldogs in command 24-5.
"I just tried to be aggressive serving like coach has told us all year long and we caught fire there a little bit," said Stammen, who had seven aces in the match.
"She has a jump serve with a lot of float to it and she was really consistent with it tonight. Started some big runs for us," said Dammeyer.
While Shawnee was scrambling off Stammen's serves, Fisher was feeding the ball to Beth Homan, who was punishing the Indians' defense with thundering kills. Homan, who appears to be finally healthy after battling an ankle injury the past several weeks, had three kills and two blocks during the Bulldogs' big run.
"I thought Beth played outstanding tonight and I thought that she looked really healthy out there," said Dammeyer. "When she is healthy, she can give teams a lot of trouble."
The Bulldogs ran out to a 5-0 lead in the second game and led 17-4 thanks to an inspired effort from senior Sara Homan, who had three kills and two blocks during the second game.
"It was pretty exciting because I don't get a lot of blocks out there. I just want to help my team in any way I can," said Homan, who finished the night with six kills and three blocks.
Celina charged in front 7-0 in the third game and was up 17-2 at one point as Shawnee's serve-receive fell apart. The Bulldogs had 21 aces in the three games combined with 10 coming in the final game, five from Emily Dorsten.
Fisher, who had seven aces, ran a balanced offense for the Bulldogs with 31 assists. Beth Homan led the way with eight kills and four blocks, Lizz Carr contributed seven kills and six blocks while Sara Homan, Wenning and Zoe Kriegel each had six kills.
Celina returns to Lima Senior on Saturday at 6 p.m. to face Elida for the sectional title. Celina defeated Elida in four games (20-25, 25-16, 25-21 and 25-19) eight days ago on Oct. 11.