Saturday, October 22nd, 2011
Historic win for Fort Recovery
Indians knock off St. Henry for first time in 17 meetings
By Gary R. Rasberry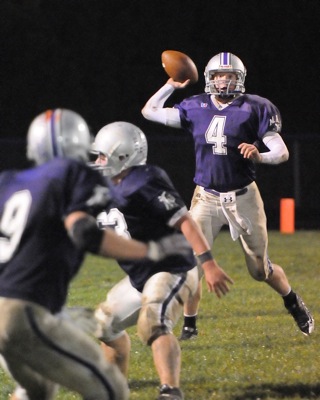 FORT RECOVERY - Two big-play touchdowns in the first quarter put Fort Recovery in the driver's seat and the Indians' defense held tough to post a 25-0 shutout victory over St. Henry is a historic game at Barrenbrugge Park.
The win for the Indians (4-5, 2-5 Midwest Athletic Conference) was the first-ever over their rivals on Ohio 119, as the Redskins won the first 16 meetings. It was also the first MAC shutout pitched by the Indians since 1997 when they beat Minster by a 25-0 margin.
"We've preached one thing all week, really all year. We have to play with great effort, play with attention to deal and great determination to make those big plays," said Indians' coach Brent Niekamp, a veteran of the battles with St. Henry as a player and coach. "I've said in the past when we've been on the wrong end of these things, it's been down to 3-4 plays that really define the game. We made those plays tonight."
Fort Recovery took advantage of the only turnover in the game midway into the first quarter, as St. Henry's Ryan Mikesell caught a pass from Kyle Stahl - making his return after an ankle injury sidelined him for several weeks - and fumbled after a 25-yard gain with the Indians on the recovery. Fort Recovery's Jason Pottkotter and Kenny Wenning gained 12 yards on two carries, before Aaron Vagedes took a jet sweep and broke free for a 63-yard scoring run with just over seven minutes left in the first quarter.
Later in the first quarter, Pottkotter took the snap on second-and-10 and raced 56 yards for a touchdown to put the Indians in front 12-0.
St. Henry was able to move the ball at times behind Stahl's passing but St. Henry was within 25 yard of the end zone on three possessions and turned the ball over on downs all three times.
"They had no rhythm offensively," said St. Henry's coach Jeff Starkey of his offense. "Defensively, we didn't tackle well enough. I thought we were in position to make plays, and their skill players are good. The (Fort Recovery) guys who had the ball in their hands are good athletes, tough kids. We just didn't tackle well."
With a two-score lead, Fort Recovery was content to run a patient offense. Pottkotter found Vagedes for a six-yard scoring pass late in the second quarter, and after Vagedes blocked a Redskins' punt, Kenny Wenning capped an 11-play drive with a one-yard burst into the end zone to wrap up the scoring.
"Those guys that we need to make the big plays made them tonight," said Niekamp. "They made them every time we needed them to. The role players - the guys up front - stepped up and did the things to allow Aaron, Jason and those guys to make those kinds of plays."
All that remained for the Indians was to preserve the shutout, which required a defensive stand on St. Henry's final drive of the game. Stahl had the Redskins on the Indians' 12 with a first down. Three plays resulted in seven yards and left St. Henry needing three yards for a fresh set of downs and five yards for the score. On fourth down, Stahl looked for Post in the corner of the end zone, but the ball was defended well by Derek Gaerke with 30 seconds left in the game.
"These guys all year play with a lot of pride," said Niekamp. "They were determined to keep playing well down the final seconds."
"They played a great game and deserved to win," said Starkey of the Indians.
Pottkotter had 13 carries for 116 rushing yards while completing 10-of-15 passes for 81 yards. Vagedes had 83 yards rushing and 22 more receiving while Gaerke snagged four passes for 51 yards.
Stahl was 15-of-32 passing for 138 yards with Mikesell, who started the season as a third-string quarterback, making five catches for 72 yards.
Fort Recovery travels east on Ohio 119 next Friday to face Marion Local while St. Henry is back home for the season finale against Versailles.