Friday, October 28th, 2011
Redskins edge Flyers in five for district title
Division IV District Volleyball at Van Wert
By Ryan Hines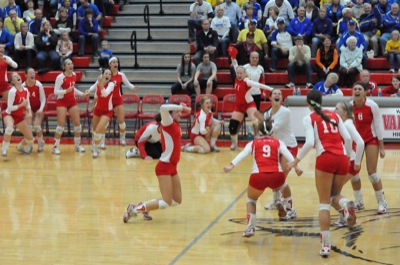 VAN WERT - It was the type of postseason matchup that you would expect to see at the state tournament.
Two tradition-rich and state-ranked volleyball programs with sparkling records in front of a boisterous crowd that was on the edge of their seats for five incredibly competitive games.
No state title was on the line but you wouldn't have guessed it from the atmosphere surrounding St. Henry's Division IV district final matchup on Thursday night against Midwest Athletic Conference rival Marion Local.
The top-ranked Redskins earned a berth to the Tipp City Regional by edging the fifth-ranked Flyers 21-25, 25-16, 25-17, 15-25 and 15-11. It's the first time in five years that St. Henry has advanced to regional competition.
"I'm speechless right now. The whole game seems like a blur to me. Two phenomenal teams battling for five games in a great atmosphere. What a great game to be a part of for the players, coaches and fans," said St. Henry's head coach Diana Kramer. "Both teams played with so much heart and intensity. It just breaks my heart that a team had to lose tonight, but I'm proud of our girls that we were able to get the job done."
"That was a typical Marion Local-St. Henry tournament game. Both teams fought hard through five games," said Steininger. "Great plays were made on both sides and I'm very proud of our girls. These are two of the top two teams in the state and it's just a shame that a team had to lose. A two-hour match of good volleyball...That's all I could ask for."
It certainly was a contrast to the first meeting between the two MAC rivals in Maria Stein on Sept. 20 when St. Henry swept Marion Local in three games (26-24, 25-20 and 25-15).
"We knew it was going to be tougher this time because they are a great team with a lot of pride and tradition," said St. Henry's senior Abby Brunswick. "We were definitely tested and it feels great to come out with a win against a great team."
"This just feels amazing," added St. Henry's senior Katie Hoyng. "Really intense game and both teams brought all they could. It's just awesome."
Marion Local showed from the start that this matchup was going to be different. St. Henry went on top 2-0 but Marion Local responded by scoring the next six points for a 6-2 lead and the Redskins never got closer than three points the rest of the way. Claire Heitkamp and Margaret Wuebker paced the Flyers in the first game by combining for six kills.
It was the first time this season that St. Henry lost the opening game against an opponent, but the Redskins responded well by winning the next two games.
Taylor Clune provided a spark for St. Henry in game two as the junior middle hitter had three kills and two blocks to help the Redskins charge in front 6-2. The Redskins' Kenzie Kleinhenz and Katie Hoyng kept St. Henry's offensive momentum rolling throughout game two as the Flyers never rallied to closer than three points as the Red and White tied the match at one game apiece.
Game three was tight throughout and the Redskins were nursing an 18-17 advantage when Hoyng earned a sideout for St. Henry and then stepped behind the service line. Hoyng served an ace and Clune had a kill and a pair of stuff blocks to highlight a five-point run that closed out the game as the Redskins held a 2-1 advantage over the Flyers.
"We didn't freak out after losing the first game because we knew that we could do it. We just had to regroup and play the way we are capable of playing," said Hoyng, the MAC's Player of the Year. "It was something new for us, but I thought that we handled it well."
After St. Henry took an early 2-0 lead in game four, it was all Flyers. Brianna Hess, Heitkamp, Winner and Wuebker formed a four-headed monster that proved difficult to stop as the balanced offensive attack helped Marion Local to a commanding 13-4 lead. Hess, Heitkamp, Winner and Wuebker combined for 11 kills as the Flyers won the fourth game comfortably to force a fifth and deciding game against the Redskins.
"Marion Local had a great slide going on offense and it was tough to defend. They have such good hitters that we had to work extremely hard to try and top them on the slide," said Kramer.
St. Henry hadn't played in a fifth game this season until Thursday night but no nerves were apparent for the Redskins as they grabbed an early 5-1 lead on the Flyers. Kleinhenz had a kill and a block to ignite the Redskins' quick start.
"It was huge to be able to get off a big start in the fifth game since we had never played one this year until tonight," said Kramer. "Usually the aggressor at the beginning in fifth games is the team that capitalizes and finishes the game out. It was close throughout the fifth game and the strong start was pivotal for us."
Heitkamp and Hess precise hitting rallied Marion Local to within two points on three different occasions, including at 13-11 when St. Henry called timeout.
Kleinhenz came out of the timeout with a kill to give St. Henry match point while Hoyng hammered a spike to the floor to clinch the win for the Redskins.
"Volleyball is a game of momentum and you have to be able to regain the momentum after you lose it or it will be a long night," stated Kramer. "We just had to settle down after the first game and again after the fourth game and just play St. Henry volleyball. For our girls to respond the way they did says so much about our girls and their will to win. I knew that it was going to be one of the best volleyball matches of the year because of the tradition of the two teams involved, and it was."
"We got off to a slow start in the fifth game and got down by four and we lost by four, so we played right with them the rest of the game except for the slow start," said Steininger. "St. Henry is a great team that made great plays and earned it. We did everything that we could but St. Henry just played a little better tonight."
St. Henry (24-1) will now face the winner of Jackson Center-Russia on Thursday in the regional semifinals at Tippecanoe High School at 6 p.m. Marion Local bows out of the tourney at 21-5.