Monday, October 31st, 2011
Coldwater sweeps D-III team titles
Regional Cross Country at Tiffin
By Bruce Monnin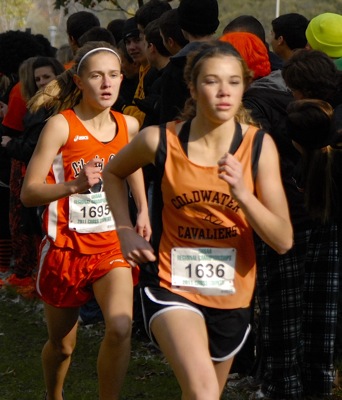 TIFFIN - A muddy course with some hills resulted in some challenges that local runners had not seen in the last three weeks.
For some, the challenges were too much to overcome, while others conquered them to earn trips to next week's state cross country meet. For Coldwater, it was a day of championships, as both the Cavalier girls' and boys' teams earned regional titles.
As expected, the girls' Division III race was a tight competition between two teams, Coldwater and Liberty Center. Although Liberty Center's Brittany Atkinson won the individual race, it was Coldwater that took the team title by a slim three-point margin, 53-50. The Cavaliers' win came because of the second-, third- and sixth-place finishes turned in by Sarah Kanney, Christina Seas and Jill Kanney.
"It was the worst mud we ever ran through," stated Coldwater's Sarah Kanney, who finished second.
Over the last 10 years, the D-III girls' state champions have averaged 3.1 runners with times under 20 minutes at the state meet. Having three runners under 20 minutes at the regional meet should mean Coldwater will be in contention for the state title next week.
"We all felt we could make it to state as a team. We're always there for each other at practice," said Christina Seas, who ran almost 40 seconds faster than at the district race last week. "Winning state is our goal. We've always been working toward it."
Also competing in the D-III girls' race was Fort Recovery, which finished in seventh place. Besides the top four teams, the top 16 individuals also qualify to run at the state meet. Fort Recovery's Elle Sutter was near the cutoff line throughout the race, but an 18th-place finish denied her the chance to return to the state meet which will be in Hebron next week.
Parkway's Allison Gaerke also competed in the race as an individual and finished in 34th place.
The boys' Division III race was also a close affair with Midwest Athletic Conference runners as the lead actors. Coldwater won the team title after beating St. Henry by 21 points, 80-101. MAC athletes took four of the top seven places.
Coldwater's Mike Seas won the event by 24 seconds, St. Henry's Aaren Hemmelgarn was fourth, New Knoxville's Isaac Kuntz finished sixth and Parkway's Cameron Strunk finished seventh.
Kuntz and Strunk will join the Coldwater and St. Henry teams at next week's state meet. For Strunk, the trip to state is the culmination of a lot of hard work.
"In the summer I put in 70 miles a week. That really paid off," admitted Strunk.
Strunk also said he needed the strength from all that training to battle through the track conditions.
"When I get out of the mud I wanted to go faster to make up the lost time. That really wears you down," said Strunk.
While Mike Seas was continuing his phenomenal season with a dominating the race from the beginning, his Cavaliers' teammates were also putting up winning efforts. Zach Muhlenkamp was able to break the 17-minute mark, while Jon Wenning, Riley Kuess and Jordan Obringer all finished with times under 18 minutes.
Muhlenkamp also found running in the occasional patches of mud a challenge.
"We haven't done the mud all year. You just lose momentum," he explained. "You had to keep putting in surges to get back up to speed."
Now that only one race remains for the season, Muhlenkamp is willing to talk about the goal of winning a team state championship.
"We've been training all season to be able to compete with the big guys at state," said Muhlenkamp.
St. Henry continued its late-season surge with a second-place finish and the Redskins also had five runners finish the course in less than 18 minutes. As is usually the case, junior Aaren Hemmelgarn paced the Redskins, posting a time faster than he ran on a comparatively flatter and drier course last week. Could it be an indication that he is peaking at the right time of the season?
"I'm not real sure," answered Hemmelgarn. "I had a bad race last week but this week I felt great."
Runners who ran as fast this week as they had at last week's district meet were rare on the day. However, Hemmelgarn was not the only St. Henry runner to accomplish this feat as Kevin Knapke and Spencer Schulze also ran within seconds of their times from last week, while Clayton Bruggeman cut 18 seconds off his district effort.
The Minster boys also competed in this race, and looked likely to grab the fourth and final qualifying spot. But disaster struck for the Wildcats when Francis Slonkosky, who had been trailing only Mike Seas early on, blacked out on the course and failed to finish. Losing their top runner is usually the end of a team's hopes, but the rest of the Wildcats put in solid efforts to leave Minster in fifth place (just 22 points behind fourth-place Hopewell-Loudon), one spot short of advancing to the state meet.
Several St. Marys and Celina runners also competed in the Division II races. The Roughriders' Nick Durkee came closest to moving on to state competition. He was in the low 20's in the standings early in the race, but was passed a few times near the end to finish 33rd, 23 seconds slower than the 16th-place finisher.
Celina's Cole Mertz and Derek Pease finished 44th and 80th, respectively. St. Marys' Hannah Tobin ran in the girls' Division II race and finished 93rd.

Odds & Ends: The St. Henry fans had to get the award for the best tailgate section at the meet. However, the unusual engineering award had to go to the fans from Rocky River. They took over a shelter house, then wrapped three sides of it with clear plastic wrap to stop the wind and hold in the heat from the fire they had going.

Correction:
In Monday's sports section, it was reported that Celina's Cole Mertz finished 44th and Derek Pease finished 80th at the Division II regional cross country race at Tiffin. It was Pease finishing 44th and Mertz 80th.